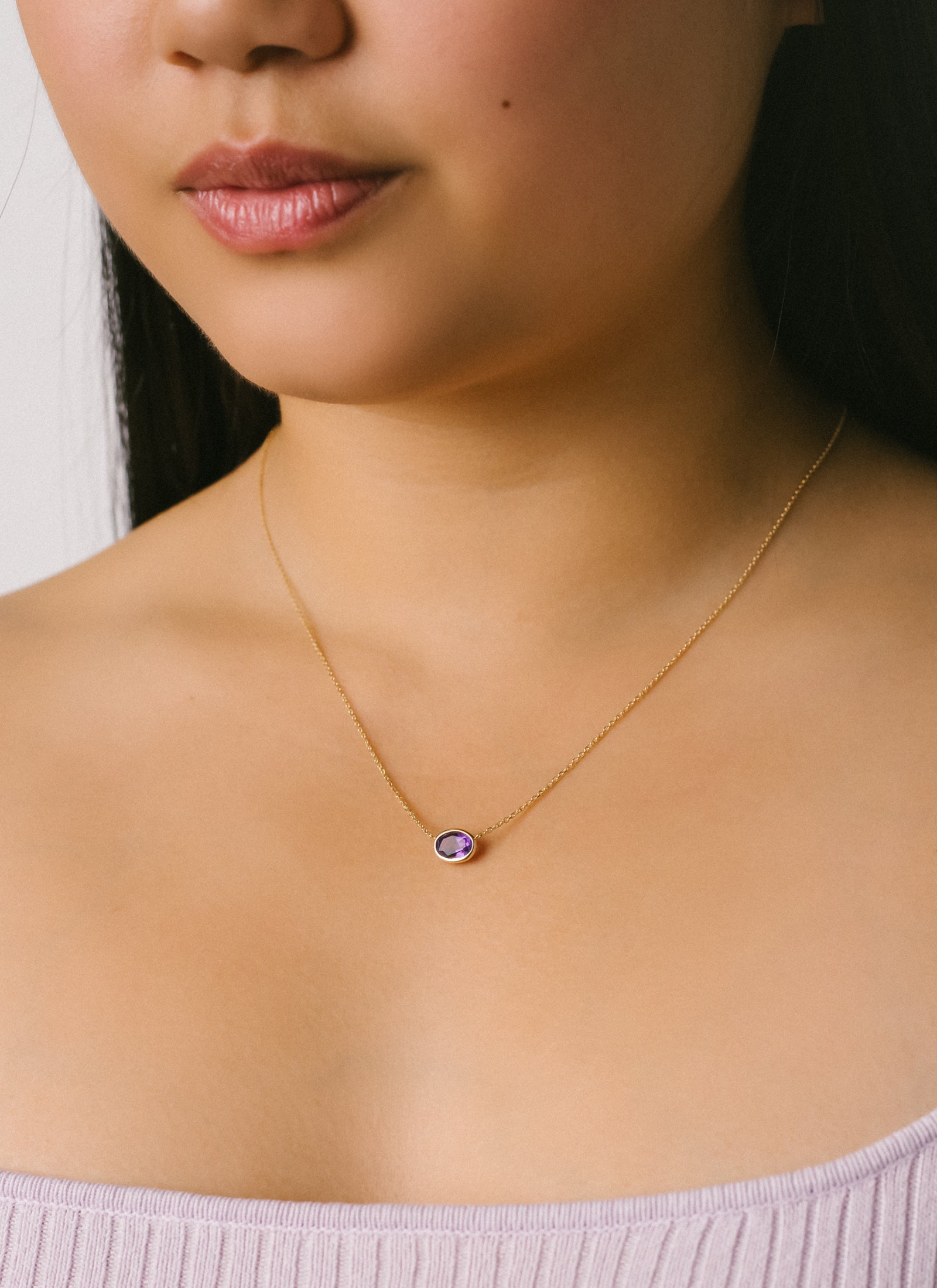 East-West Oval Amethyst Bezel Necklace
An intensely hued petite oval faceted purple amethyst is just the thing to draw onlookers to your neck and get you shrouded with compliments. The fixed pendant is suspended from a dainty yet no less radiant chain–we chose a diamond-cut chain for this piece vs. the regular cable chain so it's more scintillating (the small cuts in the links allow for more reflection of light). In recycled 14K yellow gold; secures with a spring ring clasp.
Center stone dimensions: 6mm x 8mm
Center stone dimensions, with bezel: Approximately 7mm x 9mm
Chain type: Diamond-cut cable
Chain link size: 1mm x 1.4mm
Chain length: 18" (adjustable to 16")
Made by New Yorkers using recycled precious metals and dead stock gemstones
East-West Oval Amethyst Bezel Necklace
FAQs
How do I take care of the gemstones in my RIVA New York piece?
A simple but effective way to clean your gemstone jewelry or the gemstones in your jewelry is by using lukewarm water with a few drops of dish detergent. You may use a soft brush (and old toothbrush, for example) to scrub gently, especially behind the stone where dust and dirt can collect, and once you're done scrubbing you just rinse in it lukewarm water and then pat dry with a soft cloth. (Please be mindful of the metals used in your piece; see sections above to read up on instructions and contraindications for cleaning 14K gold, sterling silver and gold vermeil jewelry.) If your piece does not require a deep clean, and you just need to, say, dust it, we recommend using a small handheld air blower (e.g., the ones that photographers use to clean their lenses). It is best to take off your gemstone jewelry when taking a shower, swimming, and especially when cleaning, washing dishes, etc.
I am purchasing this item as a gift. Is there a way for me to include a personal note with the shipment?
By all means! Please reach out to us within 48 hours of placing the order to request for a personal note to be included in your order. Send an e-mail to rdoudak@rivaprecision.com, include the exact note you would like us to write/include. We will then write the note on a card, and send to you (PDF or photo) for approval. If you would like to write the note yourself, we recommend having the order shipped to you first, and then we will include a blank card for you to write your personal note on; you would then be responsible for shipping your gift to the recipient.
Is this style available in sterling silver or gold vermeil?
No. Because this is a limited-edition piece, it is not available in sterling silver or gold vermeil. Most of RIVA New York's limited-edition pieces are only available in recycled 14K yellow gold.
More questions?
Head on over to our FAQs page where we answer frequently asked questions on the materials we use, jewelry care, shipping, returns, exchanges, etc! (If your question is product-specific or order-specific, e-mail it to rdoudak@rivaprecision.com and we will endeavor to get you an answer!)
Good to Know
Made by New Yorkers
This piece is made with tender loving care by talented artisans in our Brooklyn, NY, facilities. A crew so diverse it reflects the melting pot of a city in which we operate—and who have more than 200 years of combined experience in jewelry making!
Fair Pricing
There's no middleman here, since your RIVA New York pieces literally beeline from our benches to your shipping box, so you can rest assured that you won't see insane markups from us. One of our goals for 2025 is to be more transparent with our costs!
We Care
We are a small business and, as such, it is easy and important for us to be intimate with our customers. We treat everyone like family, and that's a promise! Feel free to contact us if you have questions or if you need help, and we'll be there (not literally, but you get the drift)!
Let's Do Our Part
Why Recycled Materials?
RIVA New York makes this necklace using recycled metals. Especially for the ethical consumer in you! By making a conscious decision to purchase and/or wear jewelry that is made from ethically sourced and recycled materials, you are showing respect and empathy not just towards artisans, but towards the planet, as well; and you are doing your part in putting a stop to illegal and/or child labor, unsafe working conditions and unfair labor practices. Click here to read up on RIVA New York's commitment to ethical sourcing and recycling.