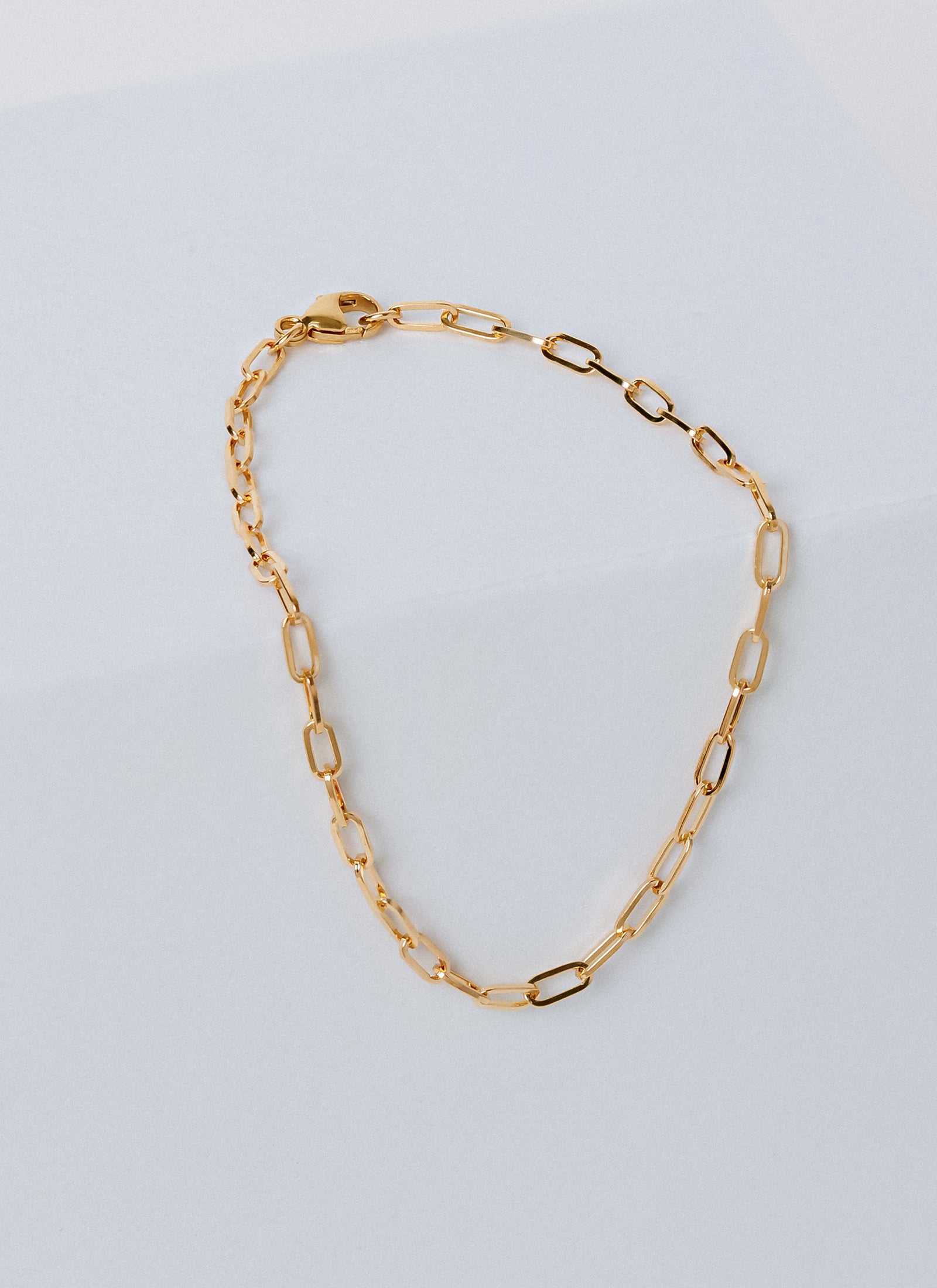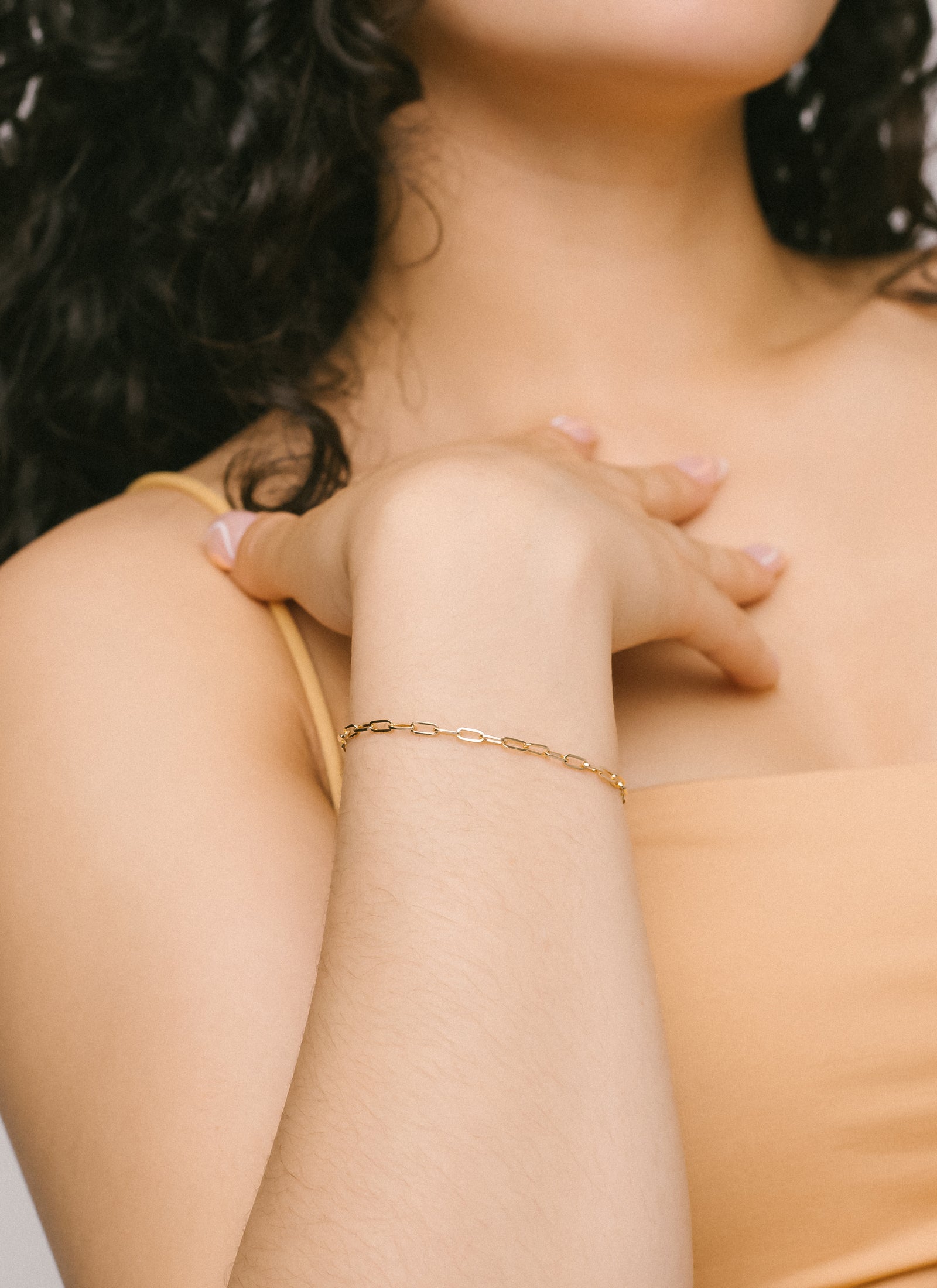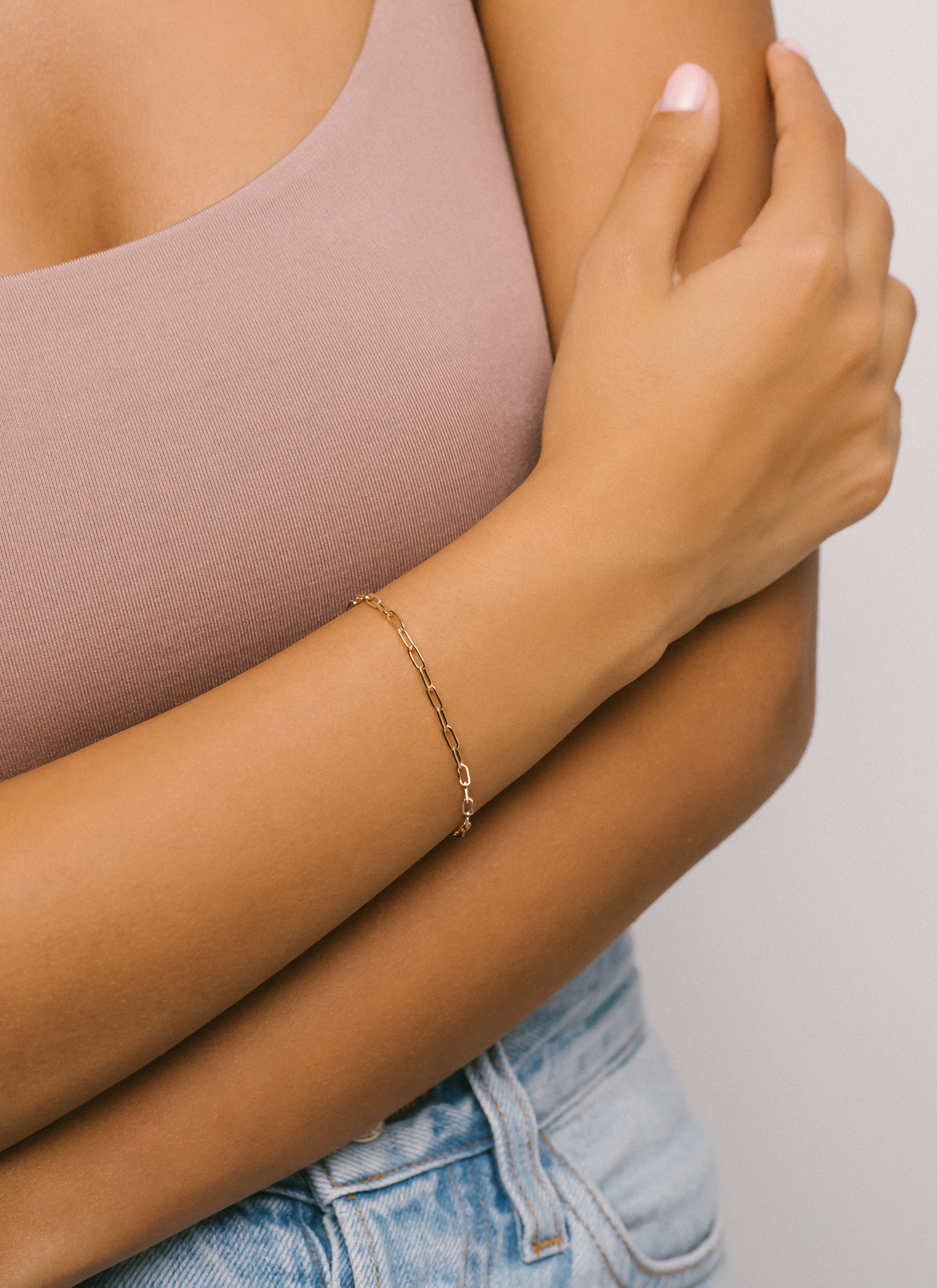 Chelsea Paper Clip Chain Bracelet
It's the dainty paper clip chain bracelet you won't ever want to take off! The Chelsea chain is our most delicate chain, so it makes for the perfect everyday go-to piece. Wear it solo and it will give you the minimal sparkle you need for your day-to-day, but layer it with other bracelets in your collection and you will see it is so versatile it goes with just about anything! Secures with a lobster claw clasp. Available in 14K yellow gold only, in five (5) different lengths.
At the moment, Chelsea bracelets are made to order, so please allow up to two (2) weeks before your order is shipped. (But please welcome the surprise if we can get it to you faster than that!)
Link size: 2.6 mm x 5.7 mm

Wire thickness: 0.60 mm

Wire type: flat/square-edged

Modern minimalist style

Perfect layering piece, but can be worn solo, too, for a dainty, delicate look

Unisex/genderless

Comes in five (5) different sizes/lengths

Made by New Yorkers using ethically sourced and recycled materials, so it's a piece you can be proud of

This particular chain style is available in 14K yellow gold only, and does not come in silver or gold vermeil
What is it about the paper clip chain that makes it sought after? Well, first of all, that silhouette strikes a chord: it takes you back to the days when you used to fashion DIY bracelets and necklaces using the humble office staple. The nostalgia! Second, they exude a very clean, modern look. Third, they make for the perfect foundation or base for attachables. Fourth, they are perfect for layering, regardless of the link size or wire thickness. Lastly, they look great in any length! 
This chain comes with a lobster claw clasp. If you are looking for a chain that you can pair with one of our Invisible Clasps, you're looking for our Wall Street chain with the bigger links.
Chelsea Paper Clip Chain Bracelet
FAQs
Does RIVA New York make this paper clip chain in-house?
RIVA New York has an in-house chain-making department. Our Wall Street, Tribeca, Soho, and Chelsea paper clip chains are all made in-house. All other chains are imported from Italy.
Does RIVA New York offer this chain in other gold colors, like rose gold or white gold?
We currently offer 14K yellow gold only. Hopefully, as we grow, we can begin to offer other gold colors, like 14K rose gold or 14K white gold.
What is the difference between a flat/square-edged paper clip chain link and a rounded one?
There are two major types of paper clip chain links: flat/square-edged links, and rounded links. The former is made from flattened wire with hard edges, for a modern, almost geometric look, whereas the latter is fashioned from a round wire, giving off a softer look. RIVA New York's Wall Street, Tribeca, Soho, and Chelsea chains are made up of flat/square-edged links.
More questions?
Head on over to our FAQs page where we answer frequently asked questions on the materials we use, jewelry care, shipping, returns, exchanges, etc! (If your question is product-specific or order-specific, e-mail it to rdoudak@rivaprecision.com and we will endeavor to get you an answer!)
Good to Know
Made by New Yorkers
This piece is made with tender loving care by talented artisans in our Brooklyn, NY, facilities. A crew so diverse it reflects the melting pot of a city in which we operate—and who have more than 200 years of combined experience in jewelry making!
Fair Pricing
There's no middleman here, since your RIVA New York pieces literally beeline from our benches to your shipping box, so you can rest assured that you won't see insane markups from us. One of our goals for 2025 is to be more transparent with our costs!
Two-Week Lead Time
RIVA New York does not keep this item in stock most of the time. Mass production (or flow production) is not in our parlance. In an effort to reduce waste, we are all about small batch production. Please allow two weeks for delivery of your piece!
Let's Do Our Part
Why Recycled Materials?
RIVA New York makes this chain using recycled metals. Especially for the ethical consumer in you! By making a conscious decision to purchase and/or wear jewelry that is made from ethically sourced and recycled materials, you are showing respect and empathy not just towards artisans, but towards the planet, as well; and you are doing your part in putting a stop to illegal and/or child labor, unsafe working conditions and unfair labor practices. Click here to read up on RIVA New York's commitment to ethical sourcing and recycling.
Chain of Command
Paper Clip Chains are Our Specialty
Our parent company RIVA Precision acquired a chain making company a little over 20 years ago, and has been manufacturing gold paper clip chains (the technical name for this style of chain is drawn cable chain, by the way) back when they were still a nascent trend. We at RIVA New York are lucky that we have access to an extensive collection of these chains! Needless to say, because we have the backing of years of expertise within this field, you can rest assured that your gold chains are of topnotch quality.