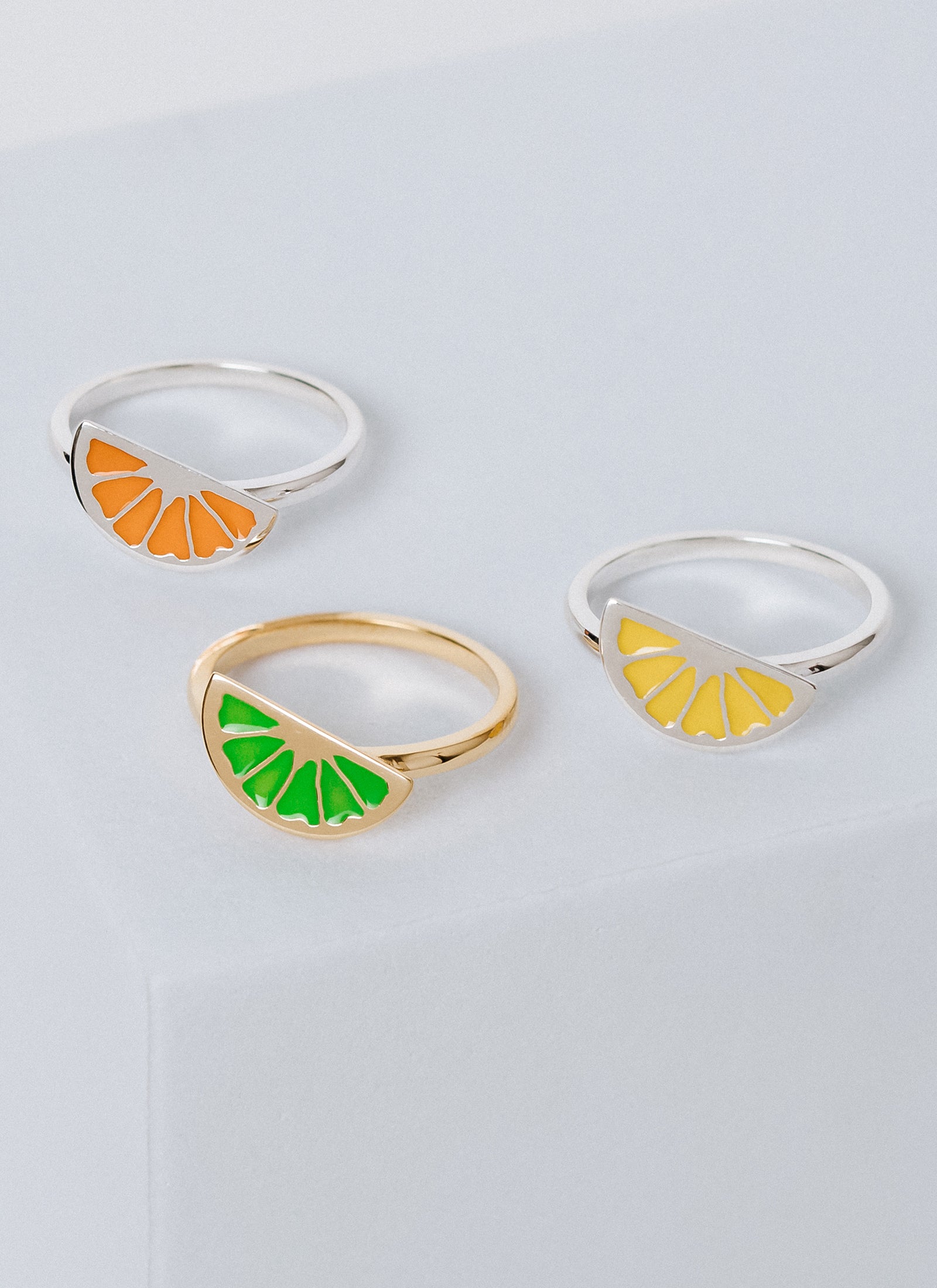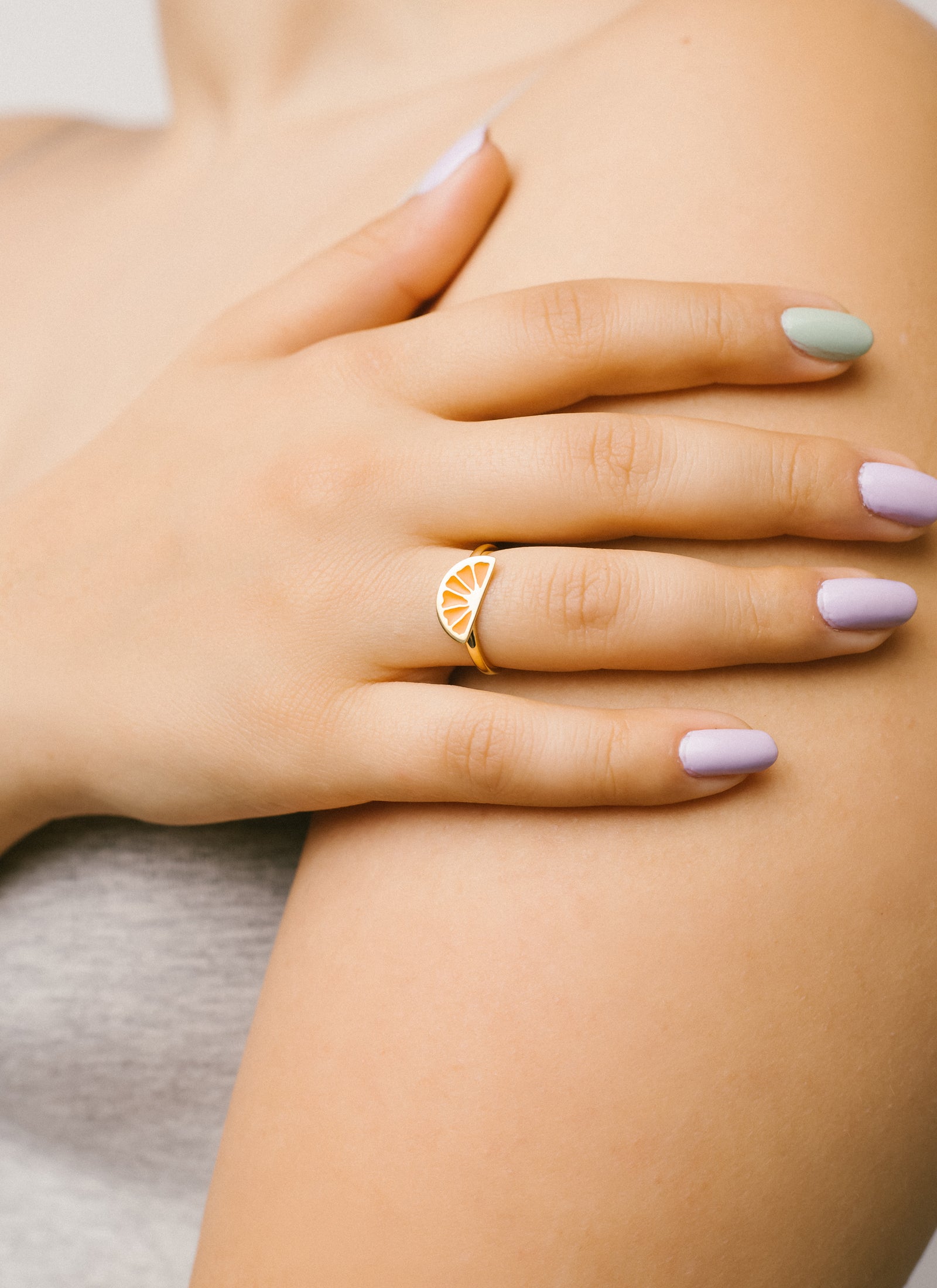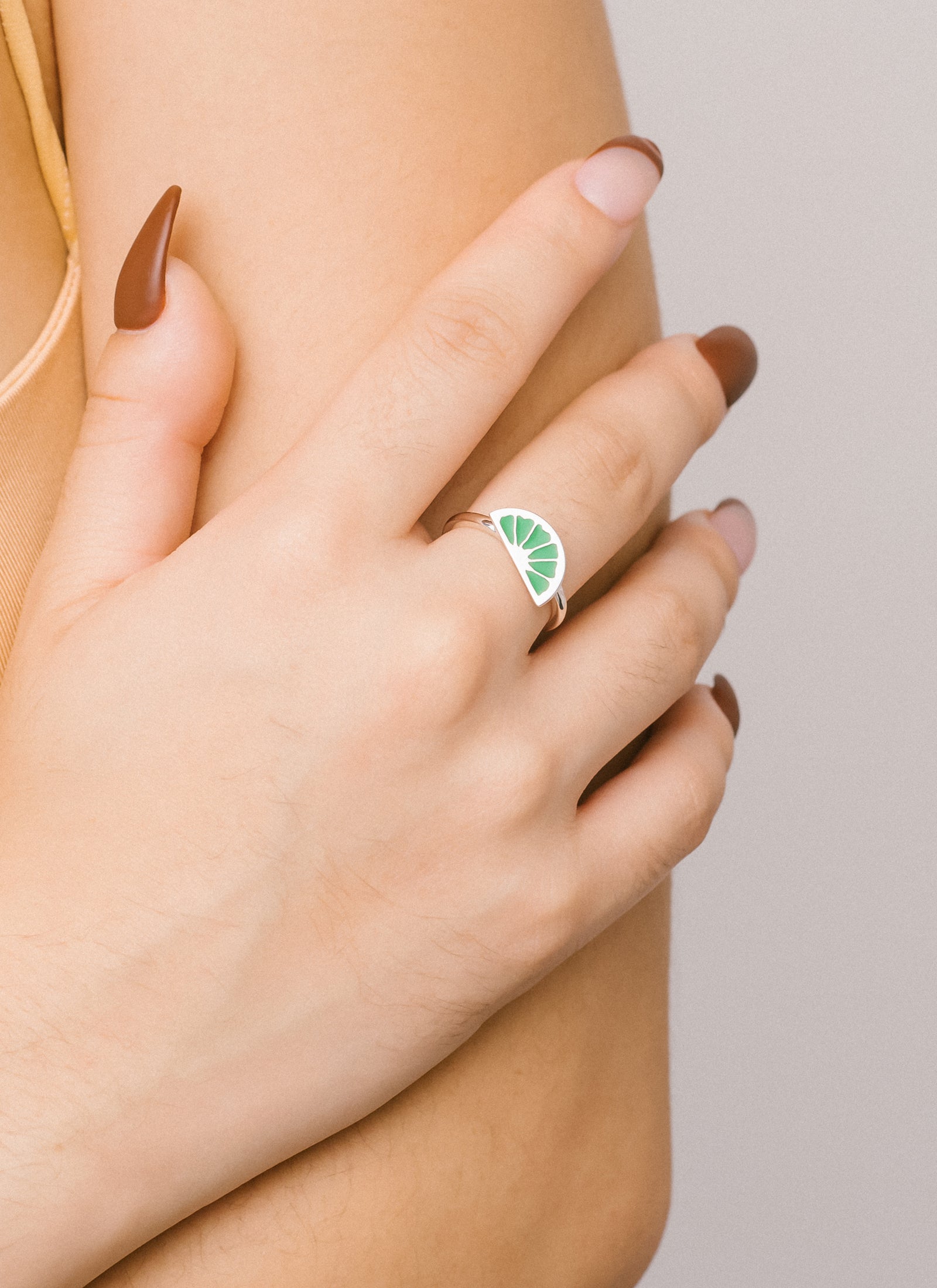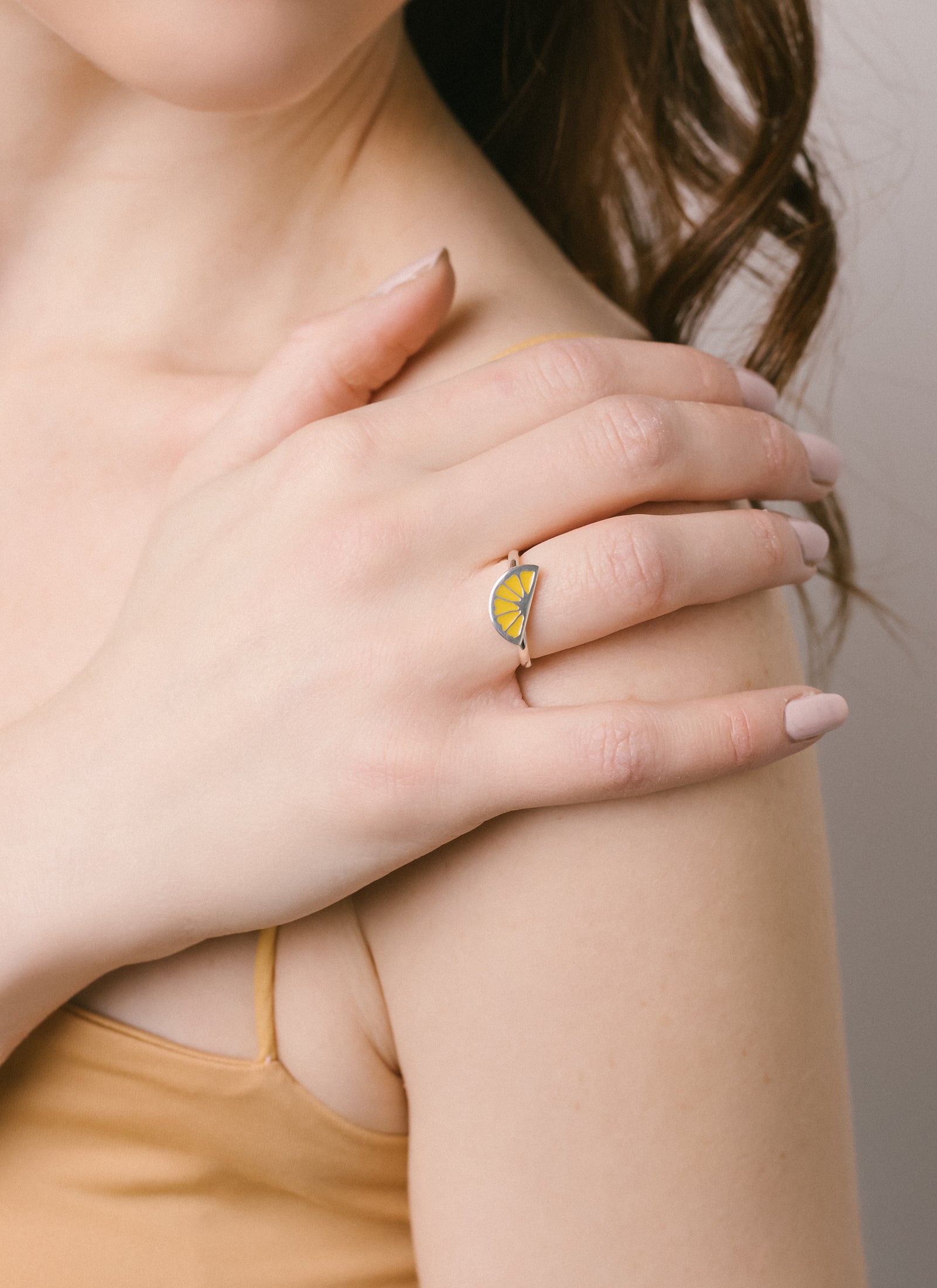 Add a playful and colorful touch to your fingers with these charming and creative citrus-themed stacking rings! Hand-painted with ceramic enamel, they are just the thing to elevate your mood, what with their delightfully juicy vibes. Available in orange (with orange enamel), lime (green enamel) and lemon (yellow enamel), and you can get them in sterling silver, gold vermeil, or 14K yellow gold.
At the moment, Citrus Wedge rings are made to order, so please allow up to two (2) weeks before your order is shipped. (But please welcome the surprise if we can get it to you faster than that!)
Ring sizes available: 6, 7, 8, 9, and 10
Dimensions of head/centerpiece: Approximately 13.75mm x 7mm
Shank thickness: 1.6mm in the bottom, swells to 1.8mm as it goes up
Enamel type: soft
Wear solo or stacked with other rings
Made by New Yorkers using ethically sourced and recycled materials, so it's a piece you can be proud of
FAQs
What is recycled gold? Is every 14K gold piece from RIVA New York made of recycled gold?
Recycled gold, sometimes referred to as reclaimed gold, is gold made from old jewelry (or gold bars or coins), and discarded electrical and electronic equipment. The gold is melted down, refined (and re-refined) until all impurities and metals are removed, and the gold goes back to its most pure form. Gold can be recycled with very little to no degradation, and so purchasing/owning jewelry made from recycled gold is a very smart and sustainable approach. Yes, every 14K gold piece from RIVA New York is made of 100% recycled gold. We purchase recycled gold from SCS-certified suppliers; we also recycle gold from old jewelry and jewelry scraps.
I am purchasing this item as a gift. Is there a way for me to include a personal note with the shipment?
By all means! Please reach out to us within 48 hours of placing the order to request for a personal note to be included in your order. Send an e-mail to rdoudak@rivaprecision.com, include the exact note you would like us to write/include. We will then write the note on a card, and send to you (PDF or photo) for approval. If you would like to write the note yourself, we recommend having the order shipped to you first, and then we will include a blank card for you to write your personal note on; you would then be responsible for shipping your gift to the recipient.
How is gold vermeil different from gold plated?
Gold-plated jewelry uses a thin layer of gold, usually 0.5 microns thick; whereas gold vermeil uses gold plating that is at least 2.5 microns thick. Also, not all gold-plated jewelry sterling silver as the base material; gold vermeil jewelry requires a base material of sterling silver.
More questions?
Head on over to our FAQs page where we answer frequently asked questions on the materials we use, jewelry care, shipping, returns, exchanges, etc! (If your question is product-specific or order-specific, e-mail it to rdoudak@rivaprecision.com and we will endeavor to get you an answer!)
Good to Know
Made by New Yorkers
This piece is made with tender loving care by talented artisans in our Brooklyn, NY, facilities. A crew so diverse it reflects the melting pot of a city in which we operate—and who have more than 200 years of combined experience in jewelry making!
Fair Pricing
There's no middleman here, since your RIVA New York pieces literally beeline from our benches to your shipping box, so you can rest assured that you won't see insane markups from us. One of our goals for 2025 is to be more transparent with our costs!
We Care
We are a small business and, as such, it is easy and important for us to be intimate with our customers. We treat everyone like family, and that's a promise! Feel free to contact us if you have questions or if you need help, and we'll be there (not literally, but you get the drift)!
Let's Do Our Part
Why Recycled Materials?
RIVA New York makes these rings using recycled metals. Especially for the ethical consumer in you! By making a conscious decision to purchase and/or wear jewelry that is made from ethically sourced and recycled materials, you are showing respect and empathy not just towards artisans, but towards the planet, as well; and you are doing your part in putting a stop to illegal and/or child labor, unsafe working conditions and unfair labor practices. Click here to read up on RIVA New York's commitment to ethical sourcing and recycling.
True Colors Shining Through
An Ode to Enamel
Enamel in jewelry is not a new concept. In fact, it has been around for centuries, ever since artisans from the olden days discovered that it could make for an effective, less expensive alternative for colored semi-precious stones. RIVA New York has an enamel department dedicated to bring pieces to life with their expert techniques and creative eye!