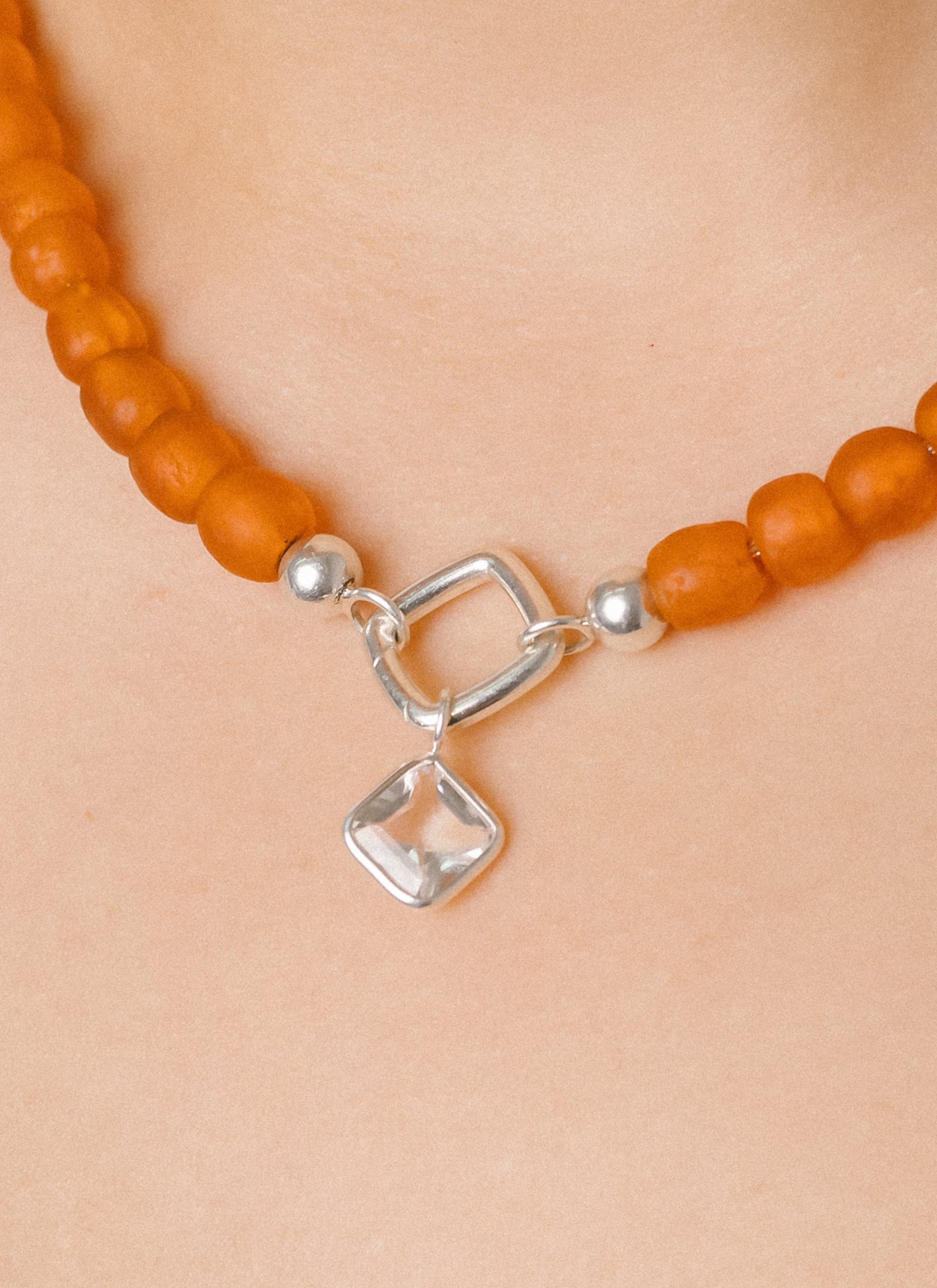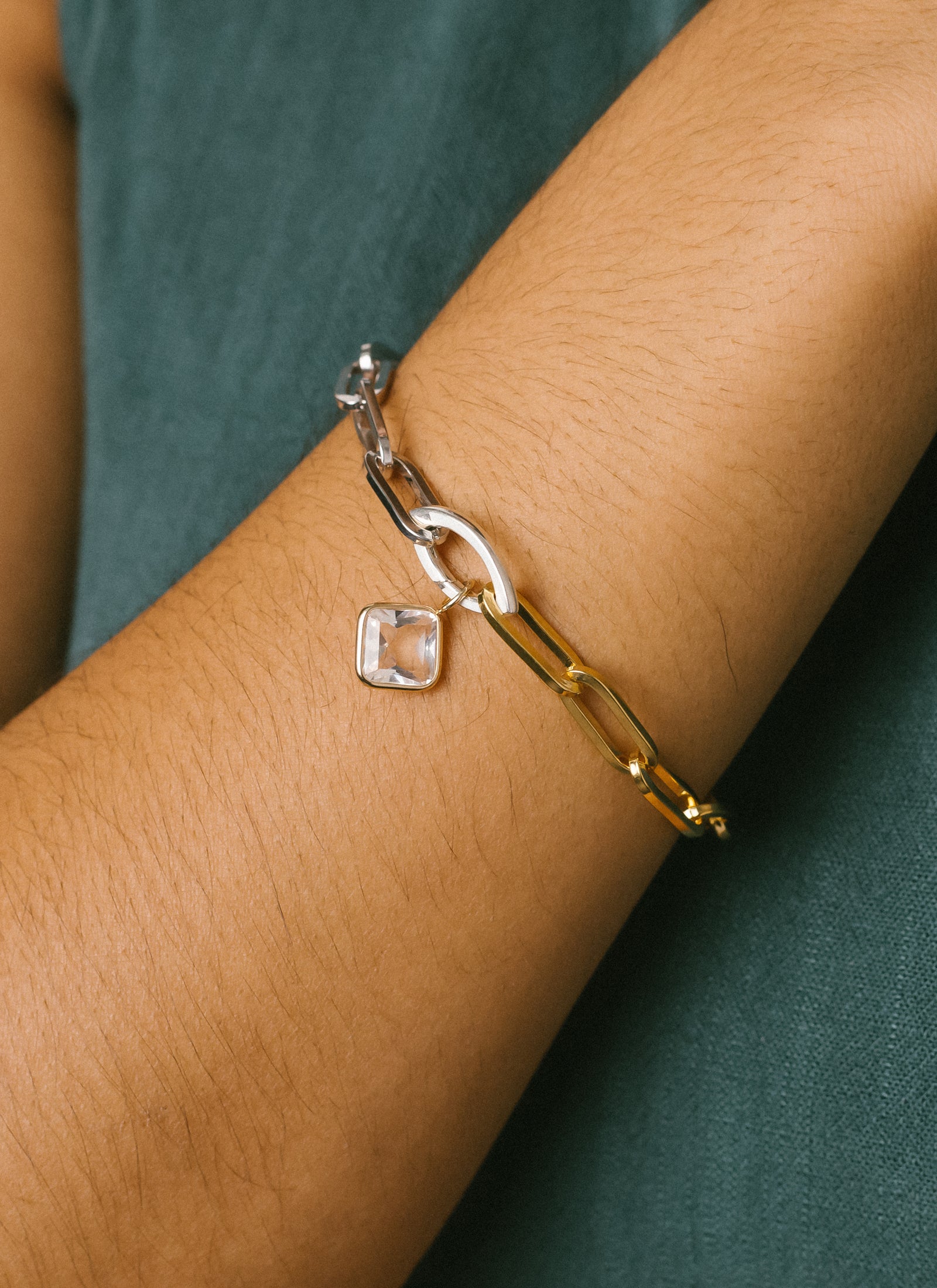 Description
One Charm, Two Ways
Delightful little gemstone charm featuring a tilted faceted cushion-shaped clear quartz cut by our in-house lapidarists. Perfect if you want something that looks like a diamond but isn't a diamond! Use it as a pendant or bracelet charm for your RIVA Wall Street chain or your RIVA recycled glass bead necklace or bracelet (just slide into the RIVA Invisible Clasp attached to your chain or bead string). Traditionally called rock crystal, the clear quartz makes for a great diamond alternative, and is known to promote clarity —i.e., it aids concentration and unlocks memory. From RIVA New York's Expression Collection. Please note that these stones are natural and come in slight variations in color and clarity.
At the moment, our gemstone charms are made to order, so please allow up to two (2) weeks before your order is shipped. (But please welcome the surprise if we can get it to you faster than that!)
Dimensions, sans bale: Approximately 11mm x 11mm 

Dimensions with bale: Approximately 15.90mm x 11mm

Made by New Yorkers using recycled precious metals and dead stock gemstones
RIVA New York's charms represent a departure from the old-school single-use format. No need to get different charms for different uses! One charm can go a long way! It can pinball from your neck, to your wrist! To use as a pendant: slip the charm into the Invisible Clasp that attaches to your Wall Street chain necklace or your Cobble, Luna or Sunset bead necklace. To use as a bracelet charm: slide it into the Invisible Clasp that attaches to your Wall Street chain bracelet or your Cobble, Luna or Sunset bead bracelet. You can even use them with chain necklaces or bracelets that you already own (i.e., even if they're not from RIVA New York), provided that your chain and chain ends can be threaded through the charms' bale!
FAQs
How do I take care of the gemstones in my RIVA New York piece?
A simple but effective way to clean your gemstone jewelry or the gemstones in your jewelry is by using lukewarm water with a few drops of dish detergent. You may use a soft brush (and old toothbrush, for example) to scrub gently, especially behind the stone where dust and dirt can collect, and once you're done scrubbing you just rinse in it lukewarm water and then pat dry with a soft cloth. (Please be mindful of the metals used in your piece; see sections above to read up on instructions and contraindications for cleaning 14K gold, sterling silver and gold vermeil jewelry.) If your piece does not require a deep clean, and you just need to, say, dust it, we recommend using a small handheld air blower (e.g., the ones that photographers use to clean their lenses). It is best to take off your gemstone jewelry when taking a shower, swimming, and especially when cleaning, washing dishes, etc.
What is recycled gold? Is every 14K gold piece from RIVA New York made of recycled gold?
Recycled gold, sometimes referred to as reclaimed gold, is gold made from old jewelry (or gold bars or coins), and discarded electrical and electronic equipment. The gold is melted down, refined (and re-refined) until all impurities and metals are removed, and the gold goes back to its most pure form. Gold can be recycled with very little to no degradation, and so purchasing/owning jewelry made from recycled gold is a very smart and sustainable approach. Yes, every 14K gold piece from RIVA New York is made of 100% recycled gold. We purchase recycled gold from SCS-certified suppliers; we also recycle gold from old jewelry and jewelry scraps.
I am purchasing this item as a gift. Is there a way for me to include a personal note with the shipment?
By all means! Please reach out to us within 48 hours of placing the order to request for a personal note to be included in your order. Send an e-mail to rdoudak@rivaprecision.com, include the exact note you would like us to write/include. We will then write the note on a card, and send to you (PDF or photo) for approval. If you would like to write the note yourself, we recommend having the order shipped to you first, and then we will include a blank card for you to write your personal note on; you would then be responsible for shipping your gift to the recipient.
More questions?
Head on over to our FAQs page where we answer frequently asked questions on the materials we use, jewelry care, shipping, returns, exchanges, etc! (If your question is product-specific or order-specific, e-mail it to rdoudak@rivaprecision.com and we will endeavor to get you an answer!)
Good to Know
Made by New Yorkers
This piece is made with tender loving care by talented artisans in our Brooklyn, NY, facilities. A crew so diverse it reflects the melting pot of a city in which we operate—and who have more than 200 years of combined experience in jewelry making!
Fair Pricing
There's no middleman here, since your RIVA New York pieces literally beeline from our benches to your shipping box, so you can rest assured that you won't see insane markups from us. One of our goals for 2025 is to be more transparent with our costs!
Two-Week Lead Time
RIVA New York does not keep this item in stock most of the time. Mass production (or flow production) is not in our parlance. In an effort to reduce waste, we are all about small batch production. Please allow two weeks for delivery of your piece!
Easy Does It
A Stone's Throw Away from Fully Responsible
When we soft-launched in 2020, we only had a few key items in our catalog, including these dainty little gemstone charms. Many of you loved them! But when we took a step back to reassess our offerings, we discovered that the gemstones we used for these charms were not as traceable as we hope they would be. Unlike our recycled gold and recycled silver, which come with extensive paperwork to validate the veracity of their origins, the gemstones did not come with sufficient substantiations, and so we shelved them. Fast forward to two years later, as we were working on new designs to get ready to relaunch our online store, we found that we had a number of these pre-cut gemstones that were now just dead stock. The thought of leaving them there in perpetuity seemed wasteful, so we decided to make a limited number of gemstone charms out of them. Because being responsible doesn't mean cutting things off with a butcher knife at the sight of the littlest flaw. It means using a scalpel, to slowly but surely work through the layers, with surgeon-level precision, until your vision is fully realized. Rest assured we are working very closely with our purchasing team from here on out so that our next batch of charms will be made of stones of unquestionable provenance! We're getting there! Just a stone's throw away!
Let's Do Our Part
Why Recycled Materials?
RIVA New York makes these charms using recycled metals. Especially for the ethical consumer in you! By making a conscious decision to purchase and/or wear jewelry that is made from ethically sourced and recycled materials, you are showing respect and empathy not just towards artisans, but towards the planet, as well; and you are doing your part in putting a stop to illegal and/or child labor, unsafe working conditions and unfair labor practices. Click here to read up on RIVA New York's commitment to ethical sourcing and recycling.