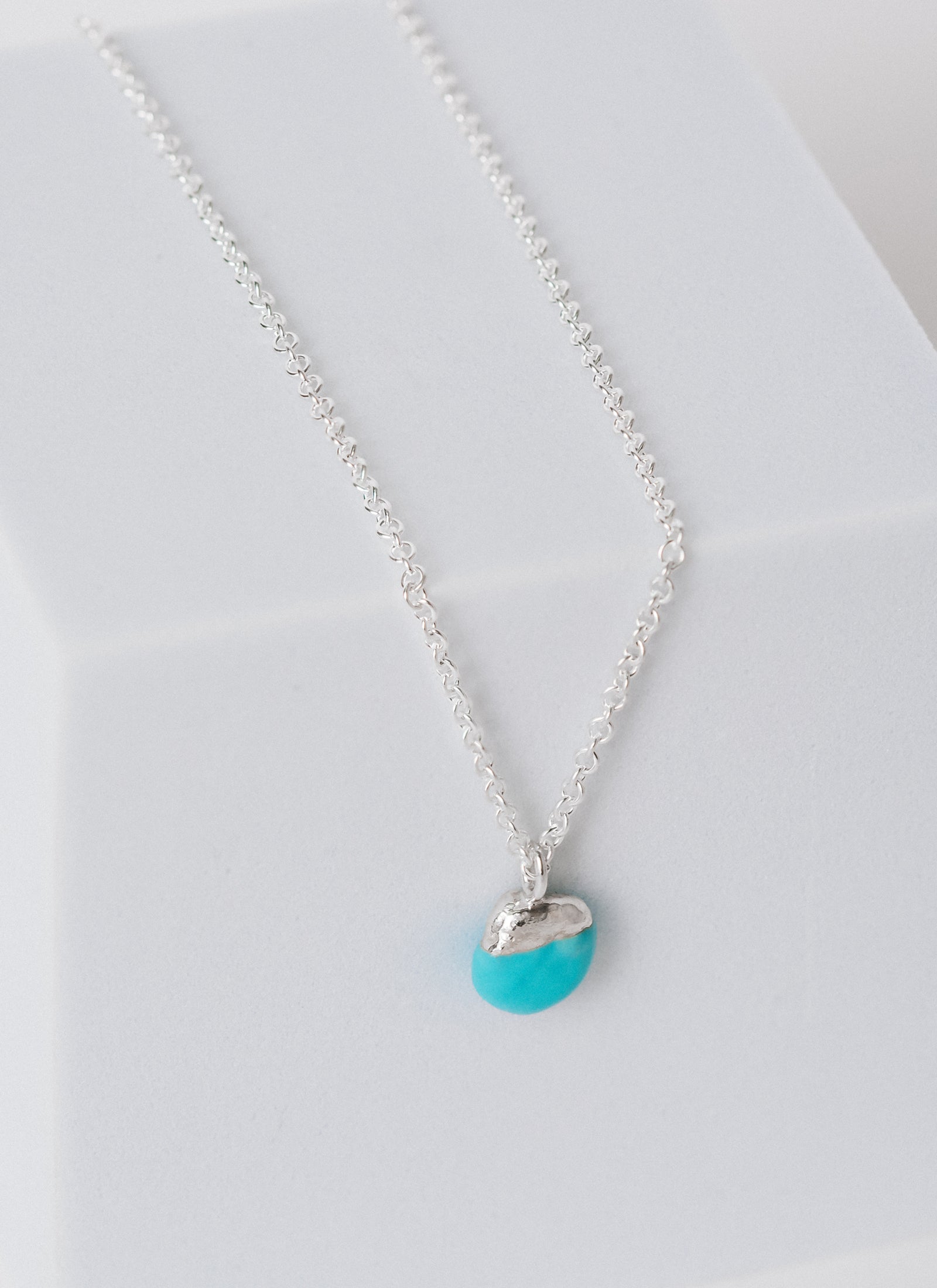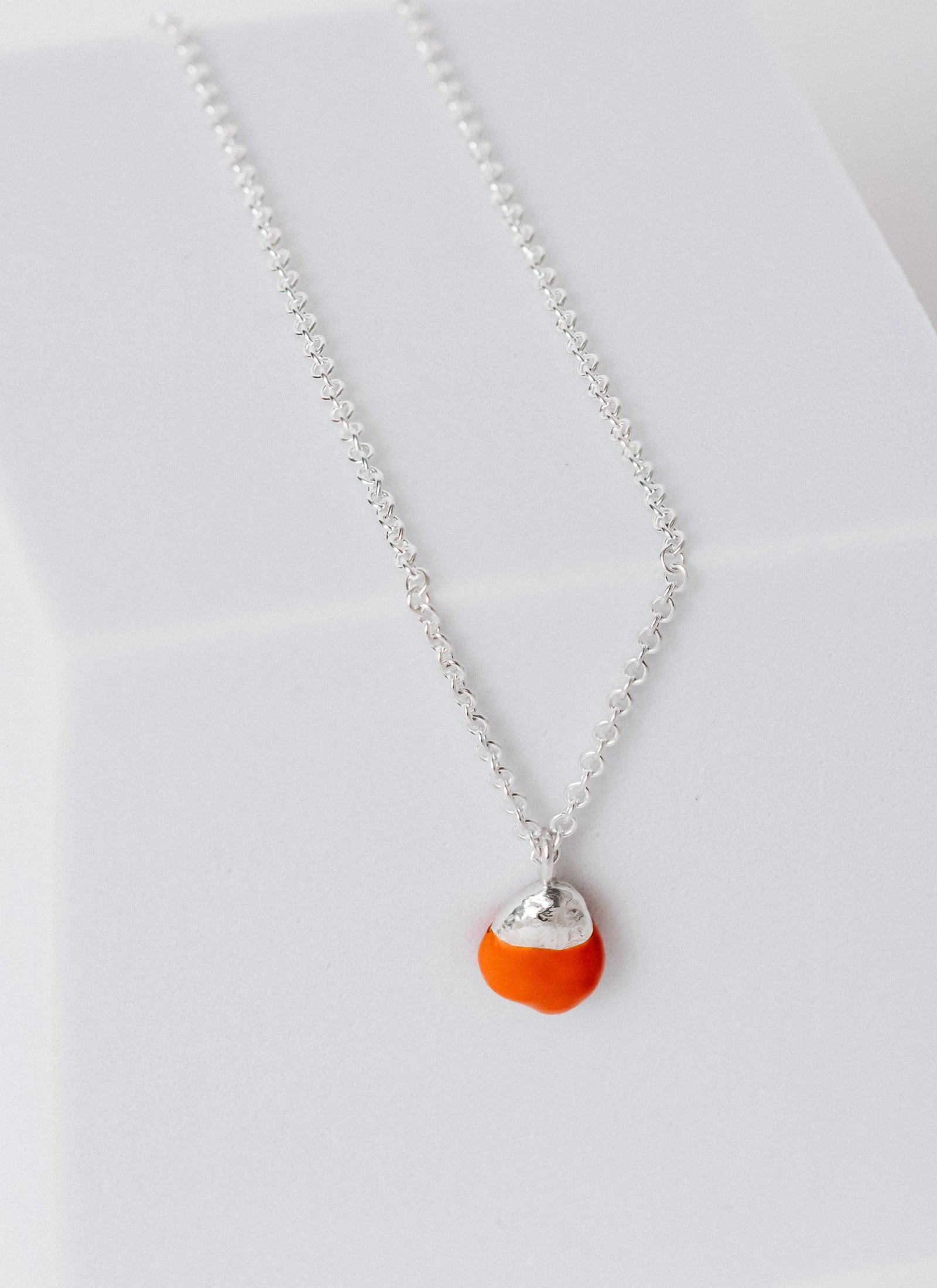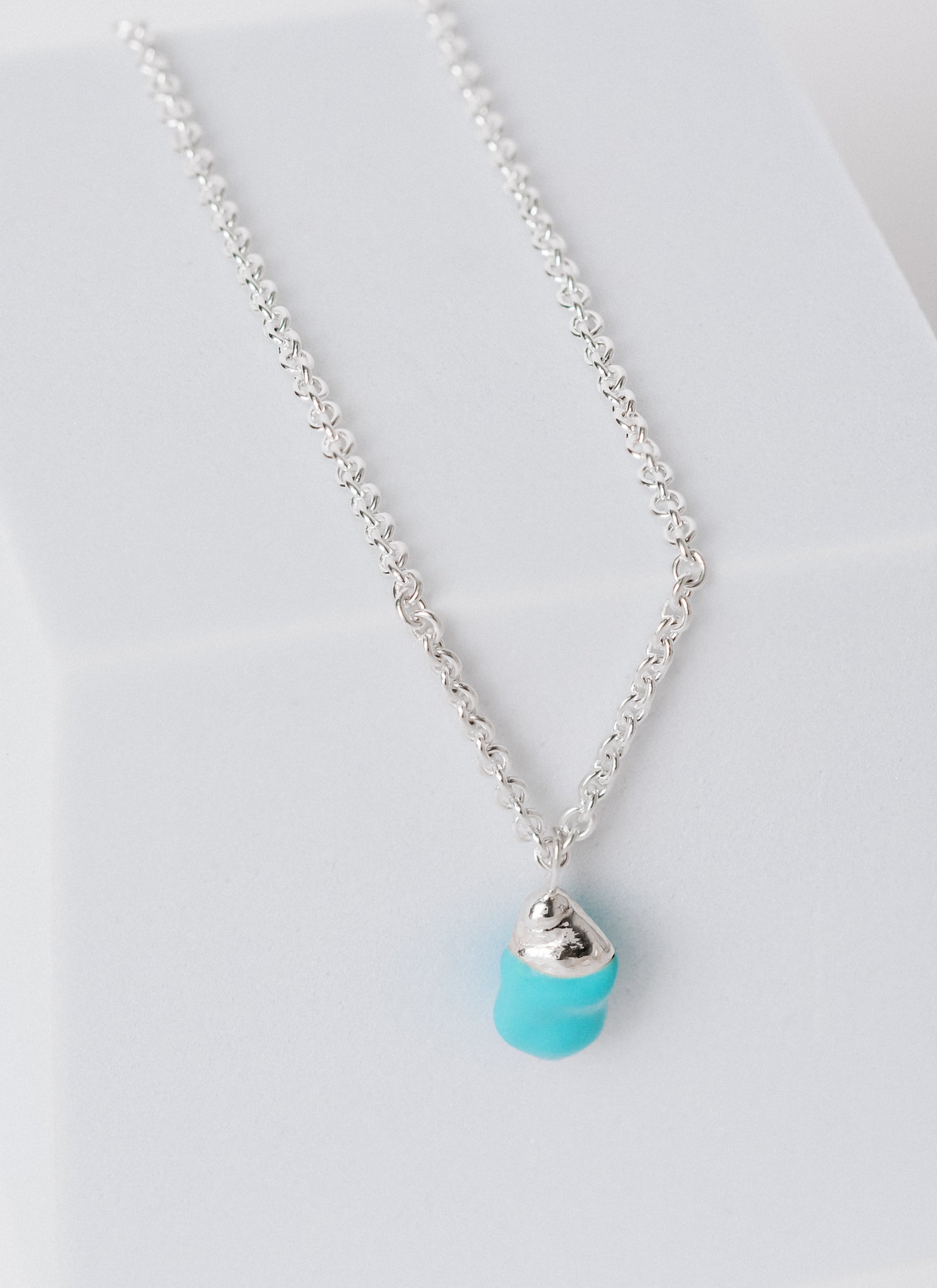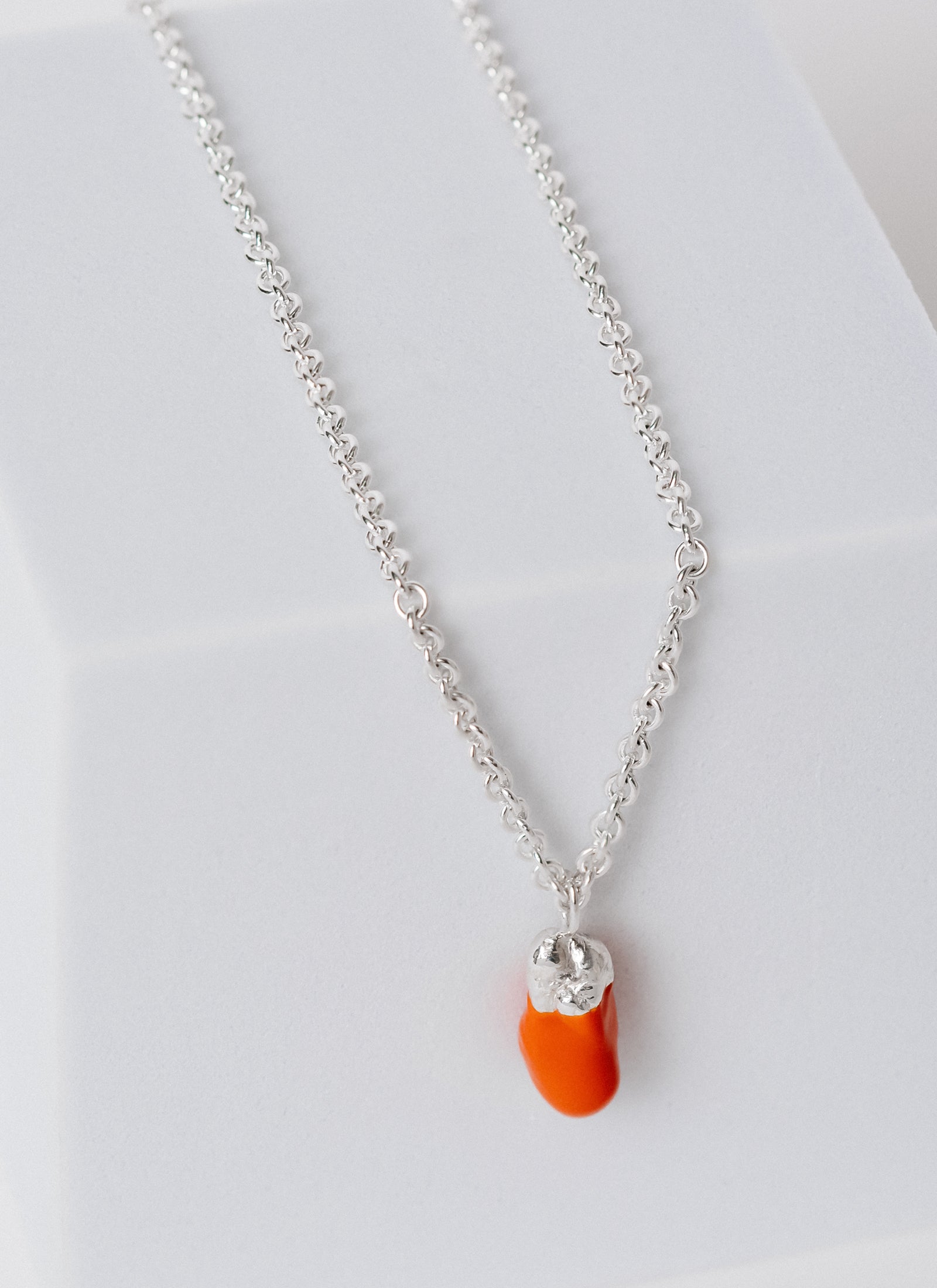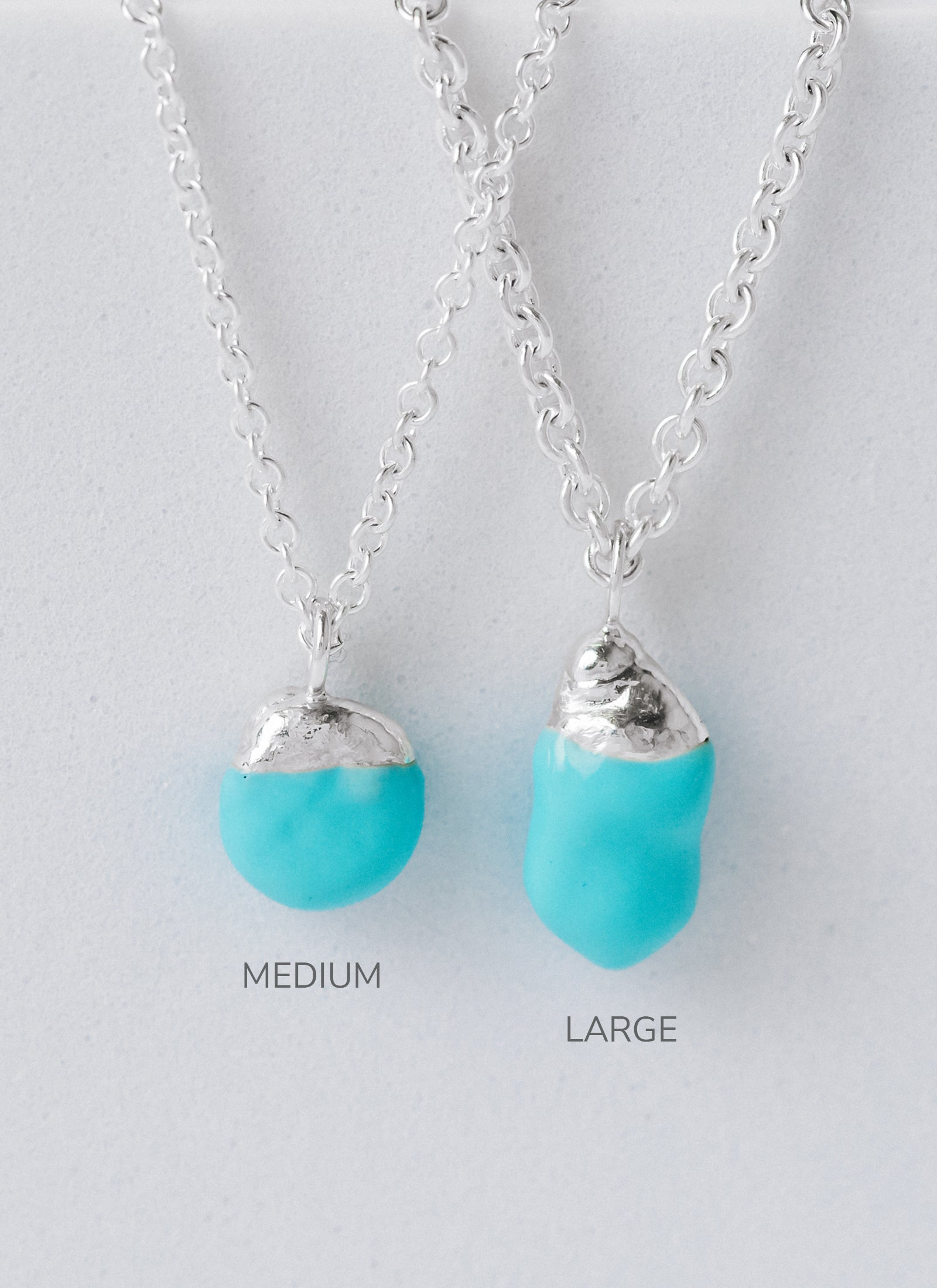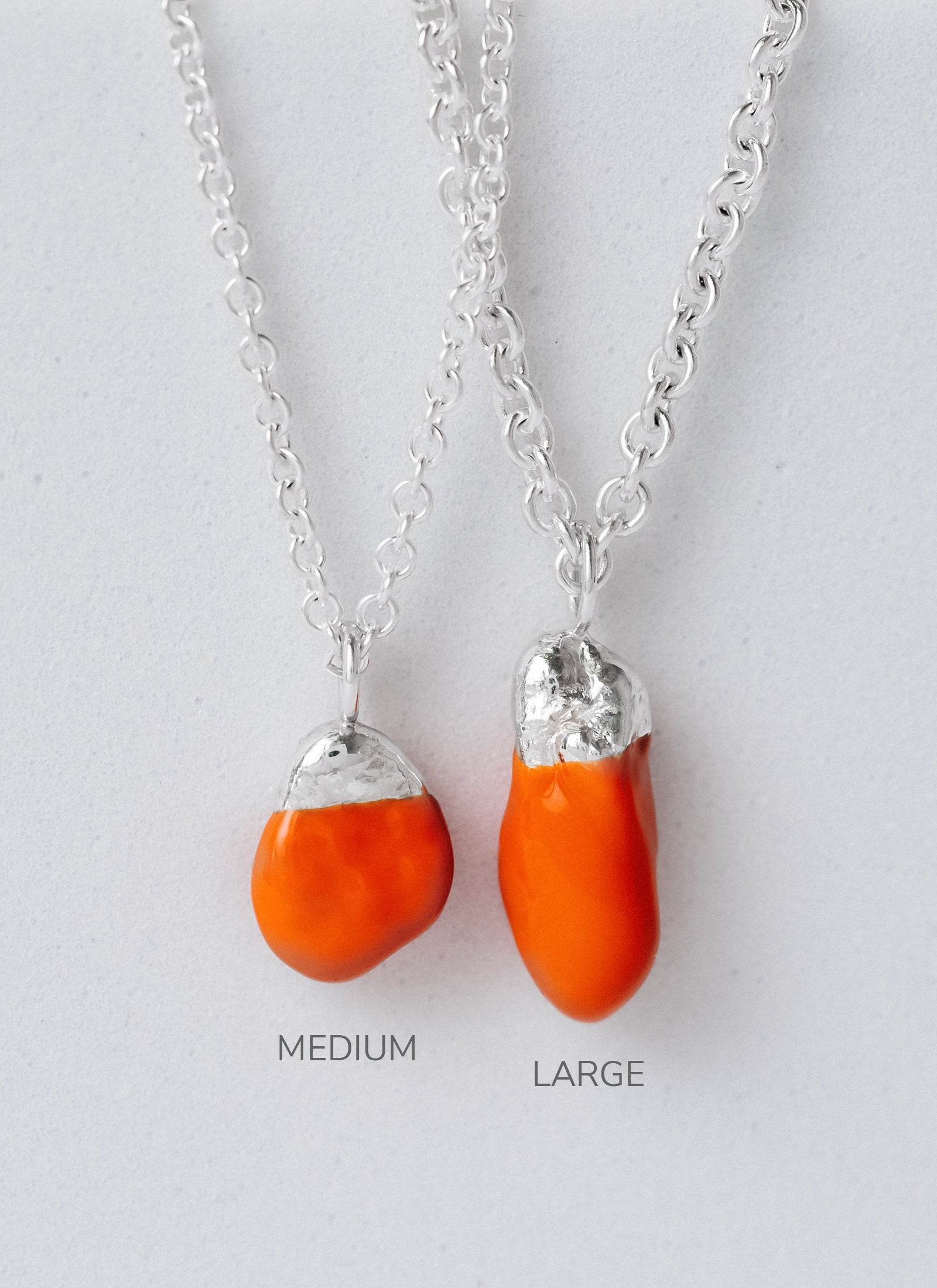 Enamel-Dipped Baroque Silver Drop Necklace
Love the look of baroque pearls but want a vegan option? We got you covered! We created irregularly shaped silver drops that mimic the alluring silhouettes of baroque pearls so you can enjoy the aesthetic without contributing to the harm done to our friends from the ocean. Dipped in soft enamel (but only three quarters of the way through, so a little high-polish sterling silver is still peeking through) for a pop of color, the unique charm dangles from a gleaming 20" cable chain in recycled sterling silver (adjustable to 18"). Secures with a lobster claw clasp. Choose between two enamel colors: baby blue or coral. Choose between two charm sizes: medium or large (the large charm comes with a thicker cable chain; see below for complete chain specs).
At the moment, our Enamel-Dipped Baroque Silver Drop Necklaces are made to order, so please allow up to two (2) weeks before your order is shipped. (But please welcome the surprise if we can get it to you faster than that!)
Charm size: Up to 14 mm in length for the medium charm, and up to 21 mm for the large charm (due to the organic shape of the silver drops, please expect slight variance in dimensions)
As with all handmade and small-batch items that feature artisanal components, no two pieces are exactly the same
Chain type: Cable
Chain link size: 2.258 mm x 2.5 mm for the chain that comes with a medium charm; 2.95 mm x 3.4 mm for the chain that comes with a large charm;
Chain length: 20" (adjustable to 18")
Everyday fun wear
Conversation starter
Layer with other necklaces for maximal impact, but definitely still a standout even when worn solo
Unisex/genderless
Made by New Yorkers using recycled sterling silver
Enamel-Dipped Baroque Silver Drop Necklace
FAQs
I am purchasing this item as a gift. Is there a way for me to include a personal note with the shipment?
By all means! Please reach out to us within 48 hours of placing the order to request for a personal note to be included in your order. Send an e-mail to rdoudak@rivaprecision.com, include the exact note you would like us to write/include. We will then write the note on a card, and send to you (PDF or photo) for approval. If you would like to write the note yourself, we recommend having the order shipped to you first, and then we will include a blank card for you to write your personal note on; you would then be responsible for shipping your gift to the recipient.
Can I request for a custom enamel color?
At this time, we are unable to accommodate requests for custom enamel color. The colors that you see on this page are the only colors available at the moment. You may send us suggestions, though, and we might consider them during our next product development meetings!
Is this style available in gold vermeil or 14K yellow gold?
No, this style is only available in sterling silver. We might consider doing these in 14K yellow gold in the future!
More questions?
Head on over to our FAQs page where we answer frequently asked questions on the materials we use, jewelry care, shipping, returns, exchanges, etc! (If your question is product-specific or order-specific, e-mail it to rdoudak@rivaprecision.com and we will endeavor to get you an answer!)
Good to Know
Made by New Yorkers
This piece is made with tender loving care by talented artisans in our Brooklyn, NY, facilities. A crew so diverse it reflects the melting pot of a city in which we operate—and who have more than 200 years of combined experience in jewelry making!
Two-Week Lead Time
RIVA New York does not keep this item in stock most of the time. Mass production (or flow production) is not in our parlance. In an effort to reduce waste, we are all about small batch production. Please allow two weeks for delivery of your piece!
We Care
We are a small business and, as such, it is easy and important for us to be intimate with our customers. We treat everyone like family, and that's a promise! Feel free to contact us if you have questions or if you need help, and we'll be there (not literally, but you get the drift)!
Let's Do Our Part
Why Recycled Materials?
RIVA New York makes these pieces using recycled metals. Especially for the ethical consumer in you! By making a conscious decision to purchase and/or wear jewelry that is made from ethically sourced and recycled materials, you are showing respect and empathy not just towards artisans, but towards the planet, as well; and you are doing your part in putting a stop to illegal and/or child labor, unsafe working conditions and unfair labor practices. Click here to read up on RIVA New York's commitment to ethical sourcing and recycling.
True Colors Shining Through
An Ode to Enamel
Enamel in jewelry is not a new concept. In fact, it has been around for centuries, ever since artisans from the olden days discovered that it could make for an effective, less expensive alternative for colored semi-precious stones. RIVA New York has an enamel department dedicated to bring pieces to life with their expert techniques and creative eye!