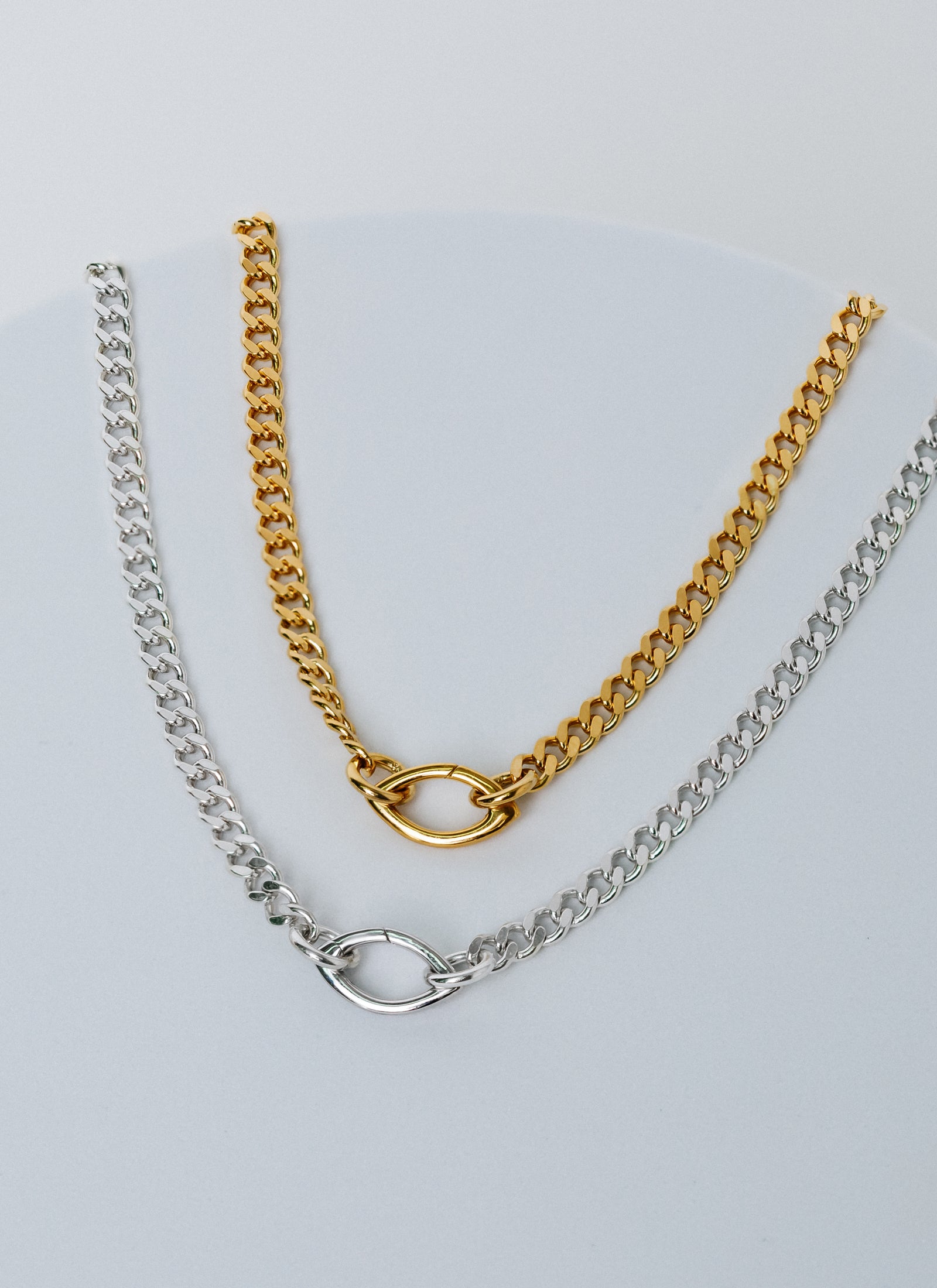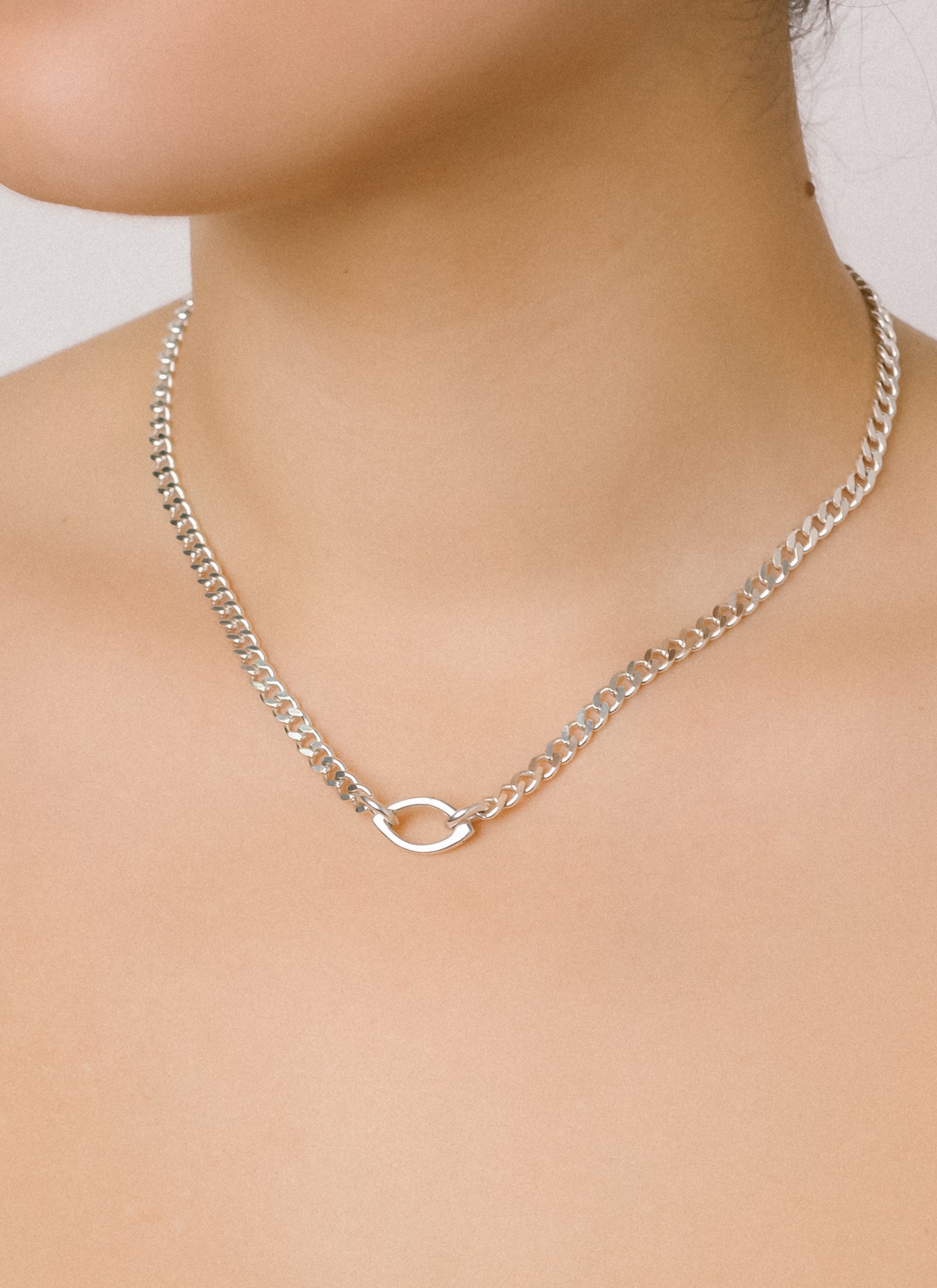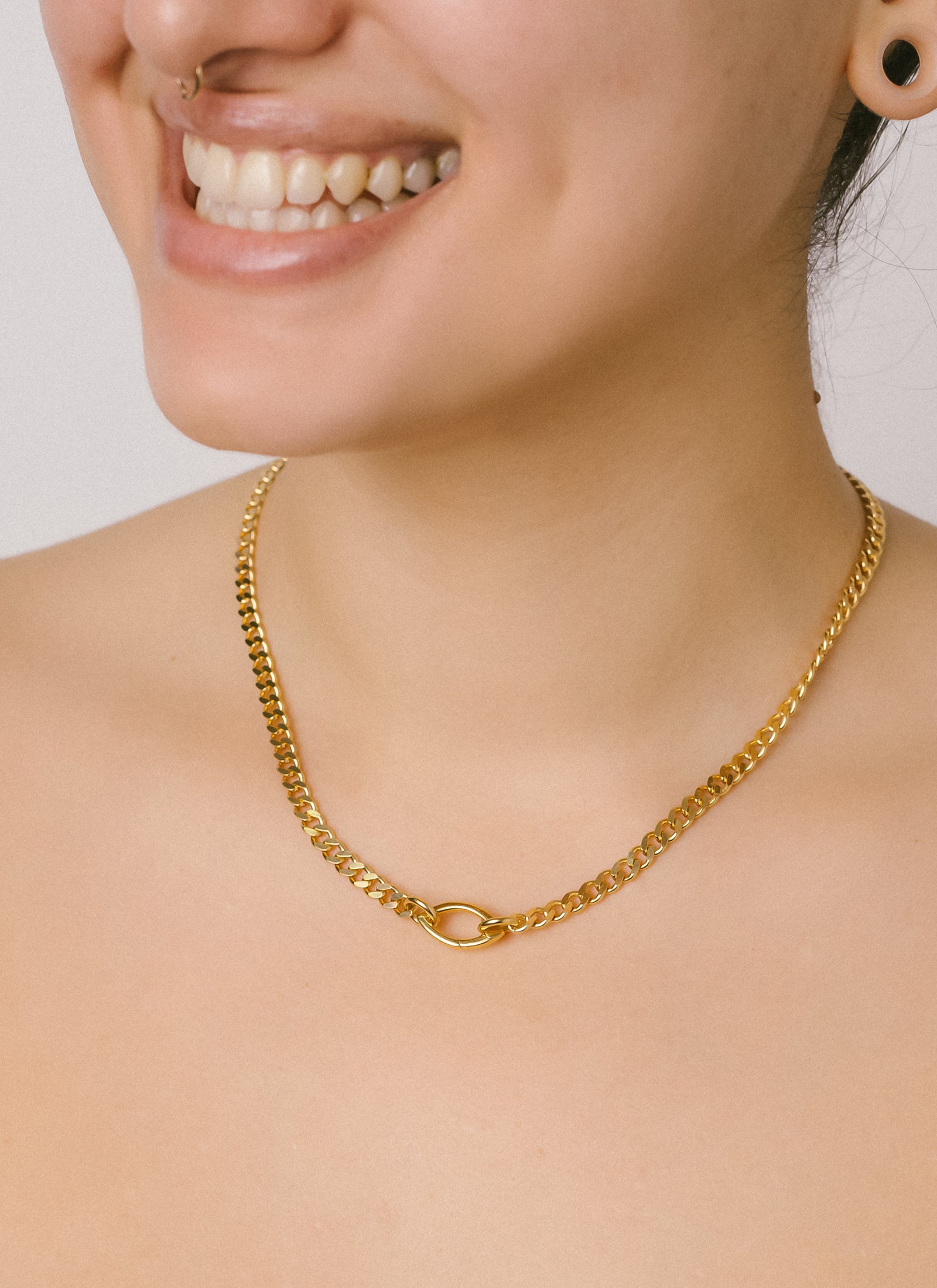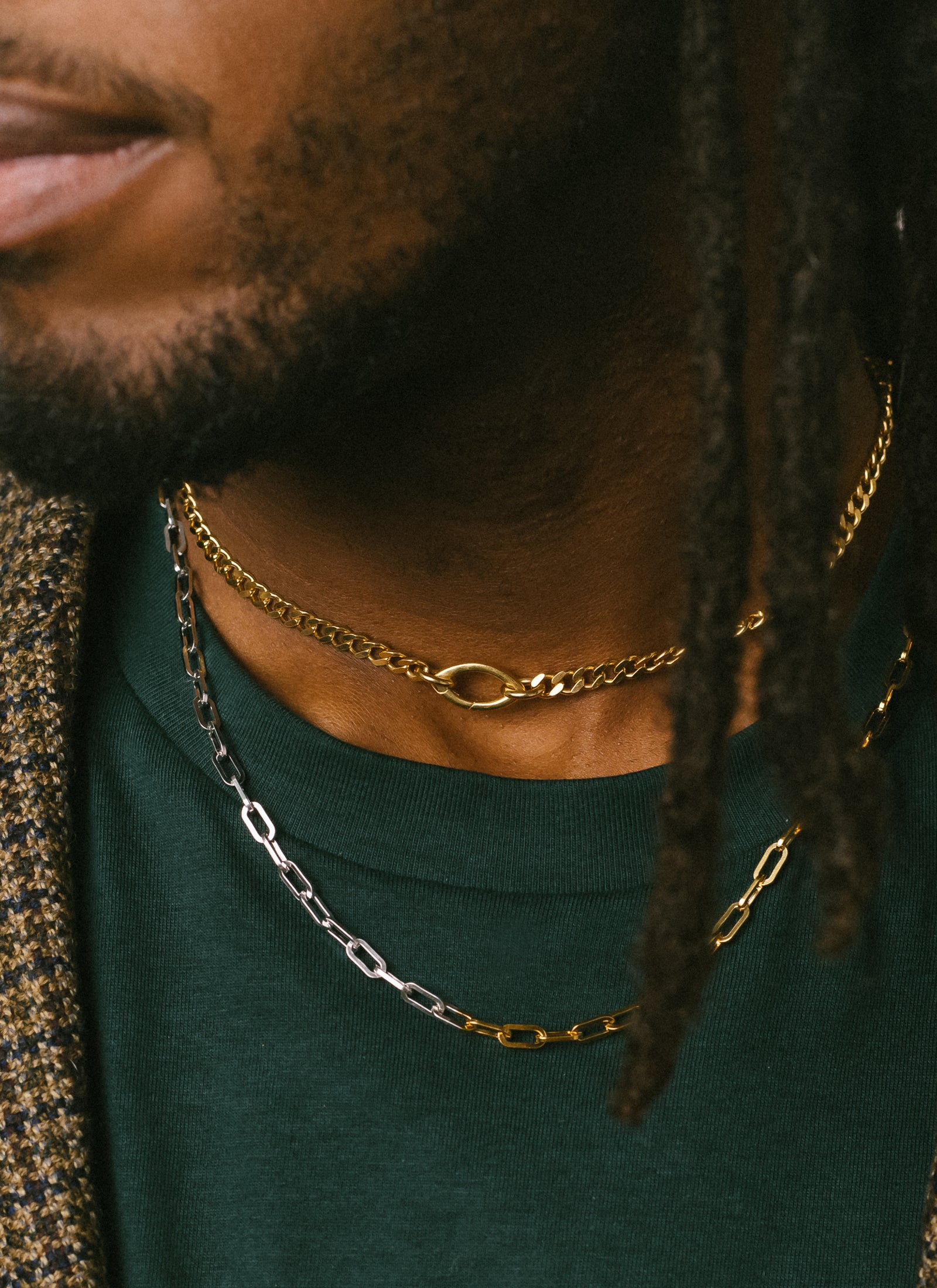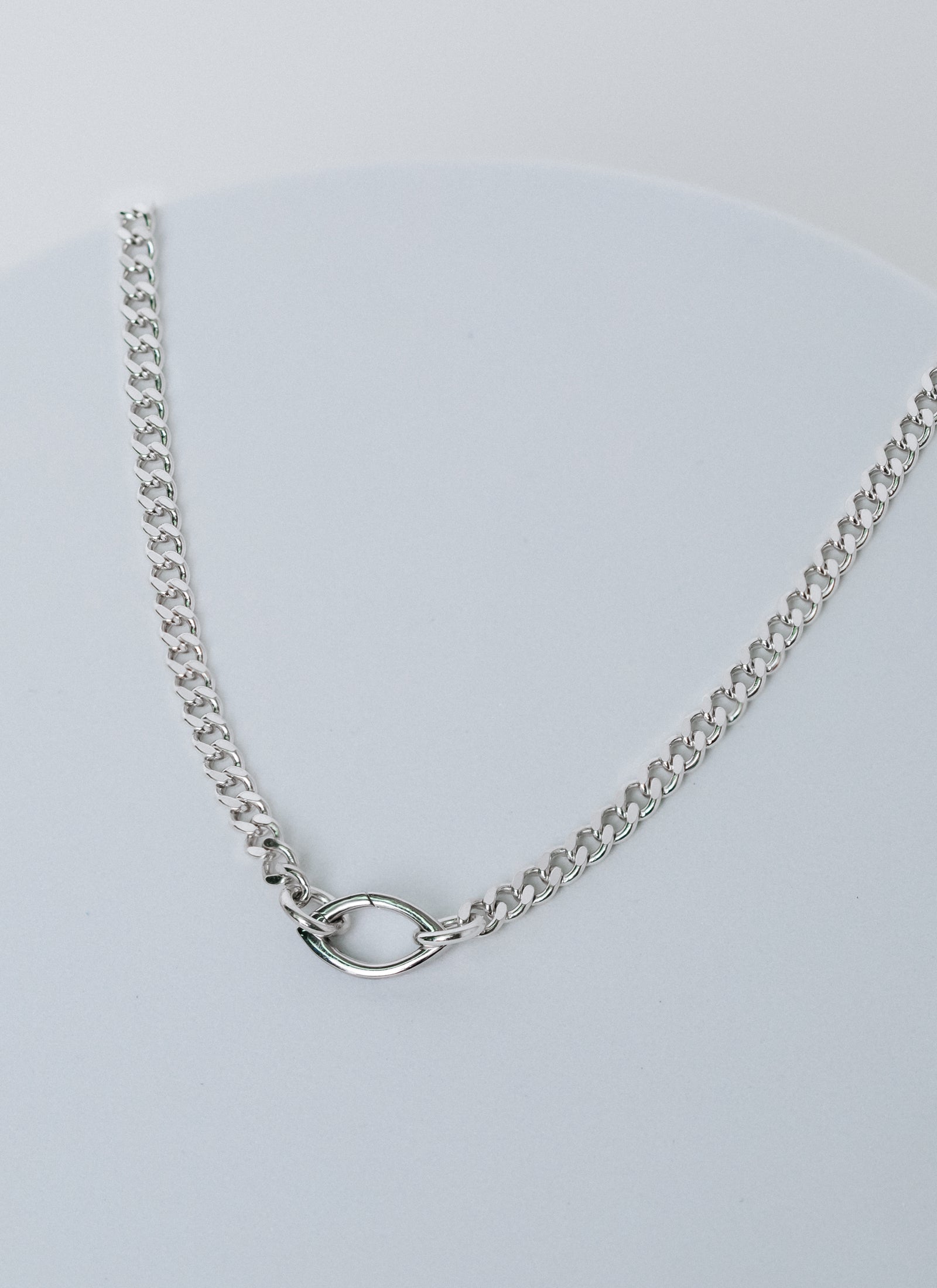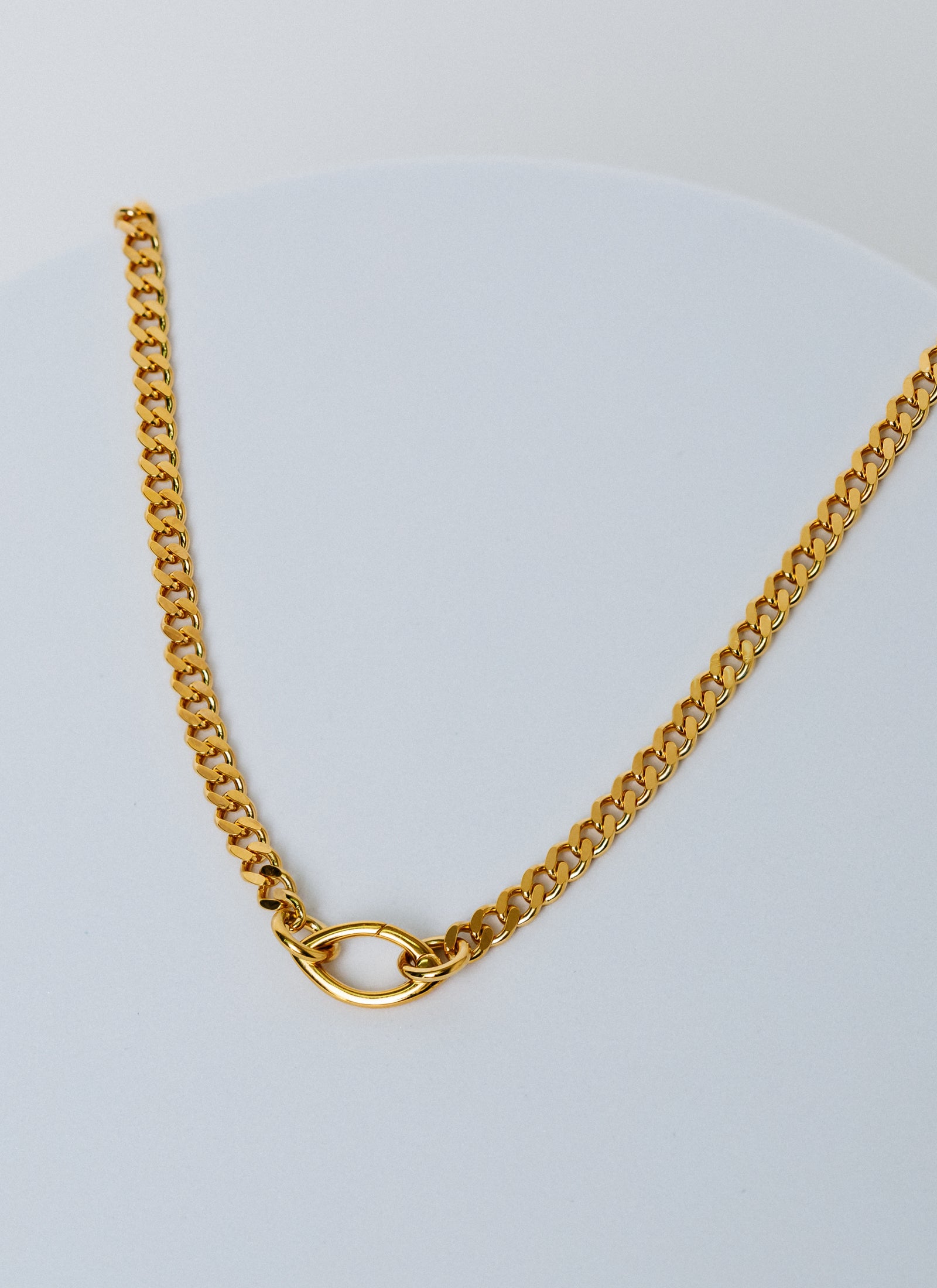 Gramercy Curb Chain Necklace
Description
The Invisible Clasp
If it's a big dose of sparkle doubling as conversation starter that you are looking to add to your necklace game, look no further than this standout style from RIVA New York. We borrowed the chain style from our most-wanted Bowery Curb Chain Necklace—made up of not-too-chunky links fashioned from not-too-thick wire —and got rid of the traditional lobster claw clasp, and bestowed on it our highly original marquise-shaped Invisible Clasp, which, as demonstrated by the photos on here, is more statement piece than closure! The Invisible Clasp effectively transforms the entire necklace into a modular piece, as it can serve as a charm holder, too —you may add a charm or two from RIVA New York's charm collection, or any charm that you already own! Comes in sterling silver or gold vermeil, and in five (5) different lengths. From RIVA New York's Expression Collection.
At the moment, our Gramercy curb chain necklaces are made to order, so please allow up to two (2) weeks before your order is shipped. (But please welcome the surprise if we can get it to you faster than that!)
Comes in five (5) different lengths
Chain link size: 4.74 mm x 6 mm
Finished chain thickness: 1.70 mm
Invisible Clasp dimensions: 9.03mm x 17.33.6mm, with a thickness of approximately 2.10 mm

The Invisible Clasp can also hold charms
Unisex/genderless
This particular style is only available in silver or gold vermeil, and not in 14K gold

Made by New Yorkers using ethically sourced and recycled materials, so it's a piece you can be proud of (the chain component is from Italy)
Gone are the days when clasps could only be filed under jewelry findings. We have reshaped them, embellished them, gave form to their function—and so now they have become statement pieces all their own. What makes RIVA New York's Invisible Clasps stand out is their locking mechanism: a barely-there push closure that snaps open and shut ever so smoothly and ever so swifty, not only for a seamless look but also to promote easy assembly of your modular jewelry piece! We patented this functionality, by the way, which adds to the cool factor, don't you think?
Please take note that this listing is for the Gramercy chain that features the marquise-shaped Invisible Clasp as closure for a curb chain. If you are looking for the listing for a standalone marquise-shaped Invisible Clasp, click here. If you are looking to pair this Invisible Clasp with a Wall Street chain or a recycled glass bead necklace or bracelet, please proceed to the Build Your Own Necklace or Bracelet sections in our Website.
Gramercy Curb Chain Necklace
FAQs
Does RIVA New York make this curb chain in-house?
While we manufacture most of our chains in-house at our Brooklyn, NY, facility, the curb chain we use for our Gramercy necklaces and Gramercy bracelets is sourced from Italy. The finished necklaces and bracelets, however, are assembled by us! The Invisible Clasp component is made from scratch in-house at our Brooklyn, NY, facilities.
Why is it called an Invisible Clasp?
We actually get asked this a lot, especially via Instagram DMs! "Why is it called an Invisible Clasp when we can clearly see it?" Well, we do not mean that the whole piece is invisible, obviously! By "invisible," we mean the push-closure is incognito or barely-there, so to the untrained eye it will look like a solid link and not a clasp! We hope that clears things up!
I am purchasing this item as a gift. Is there a way for me to include a personal note with the shipment?
By all means! Please reach out to us within 48 hours of placing the order to request for a personal note to be included in your order. Send an e-mail to rdoudak@rivaprecision.com, include the exact note you would like us to write/include. We will then write the note on a card, and send to you (PDF or photo) for approval. If you would like to write the note yourself, we recommend having the order shipped to you first, and then we will include a blank card for you to write your personal note on; you would then be responsible for shipping your gift to the recipient.
More questions?
Head on over to our FAQs page where we answer frequently asked questions on the materials we use, jewelry care, shipping, returns, exchanges, etc! (If your question is product-specific or order-specific, e-mail it to rdoudak@rivaprecision.com and we will endeavor to get you an answer!)
Good to Know
Ingenious Engineering
Because we have the backing of our parent company who boasts decades of experience in product development and jewelry manufacturing, you can rest assured that the mechanisms featured in this piece is a masterclass in jewelry innovation.
Two-Week Lead Time
RIVA New York does not keep this item in stock most of the time. Mass production (or flow production) is not in our parlance. In an effort to reduce waste, we are all about small batch production. Please allow two weeks for delivery of your piece!
We Care
We are a small business and, as such, it is easy and important for us to be intimate with our customers. We treat everyone like family, and that's a promise! Feel free to contact us if you have questions or if you need help, and we'll be there (not literally, but you get the drift)!
We See You, Shining!
Protect That Shine
As much as we love the look of sterling silver, it does have some pitfalls. Unfortunately, silver is known to tarnish from exposure to oxygen and moisture over time. And although tarnish can be avoided by cleaning, and removed by polishing, we at RIVA use a more proactive solution: rhodium plating! The chemical properties of rhodium make it ideal for adding a protective coat around silver pieces. The hard exterior makes your piece of silver jewelry piece more resistant to scratches or tarnishing, and adds a brighter shine! Click here to learn more about rhodium plating.