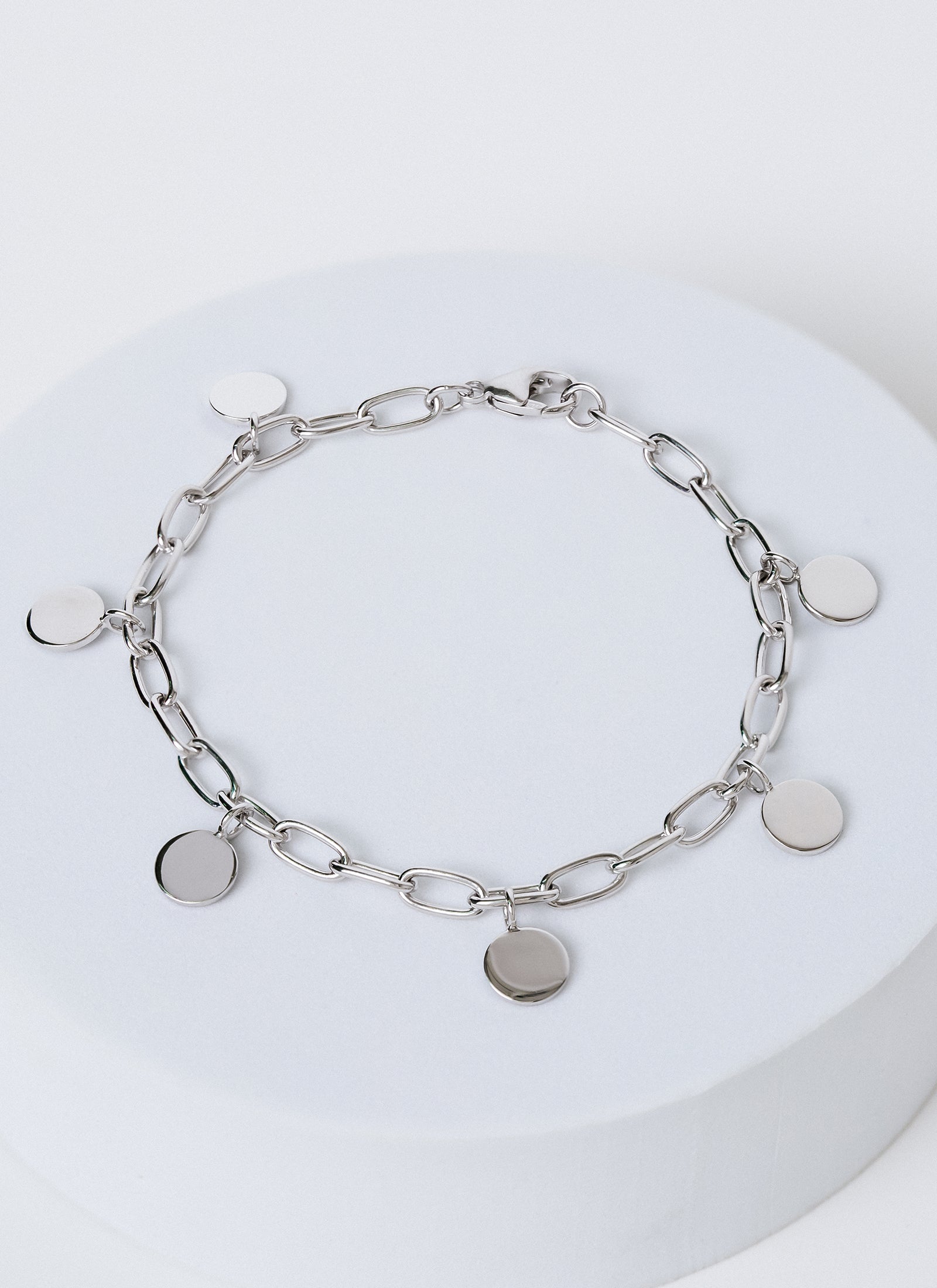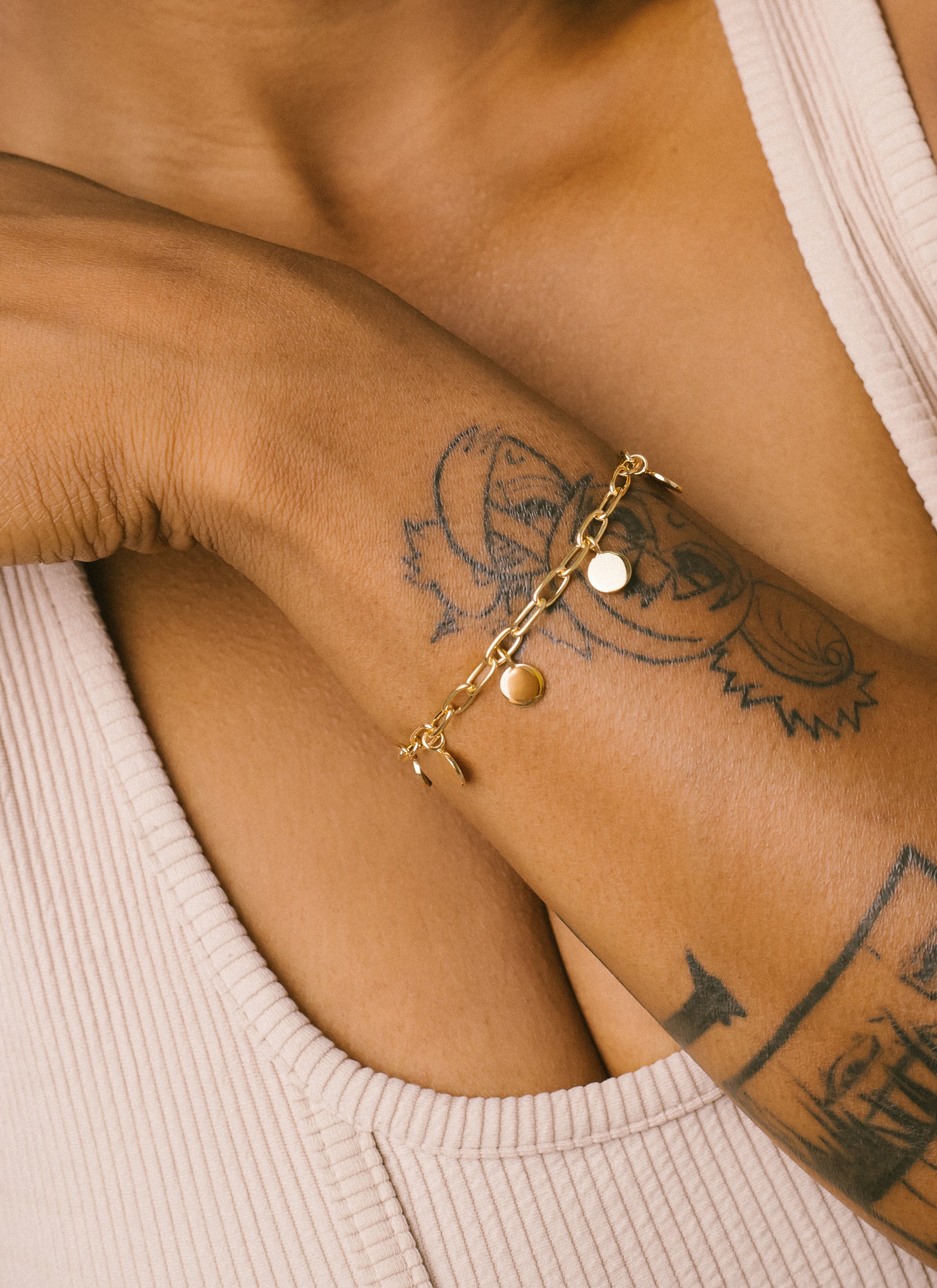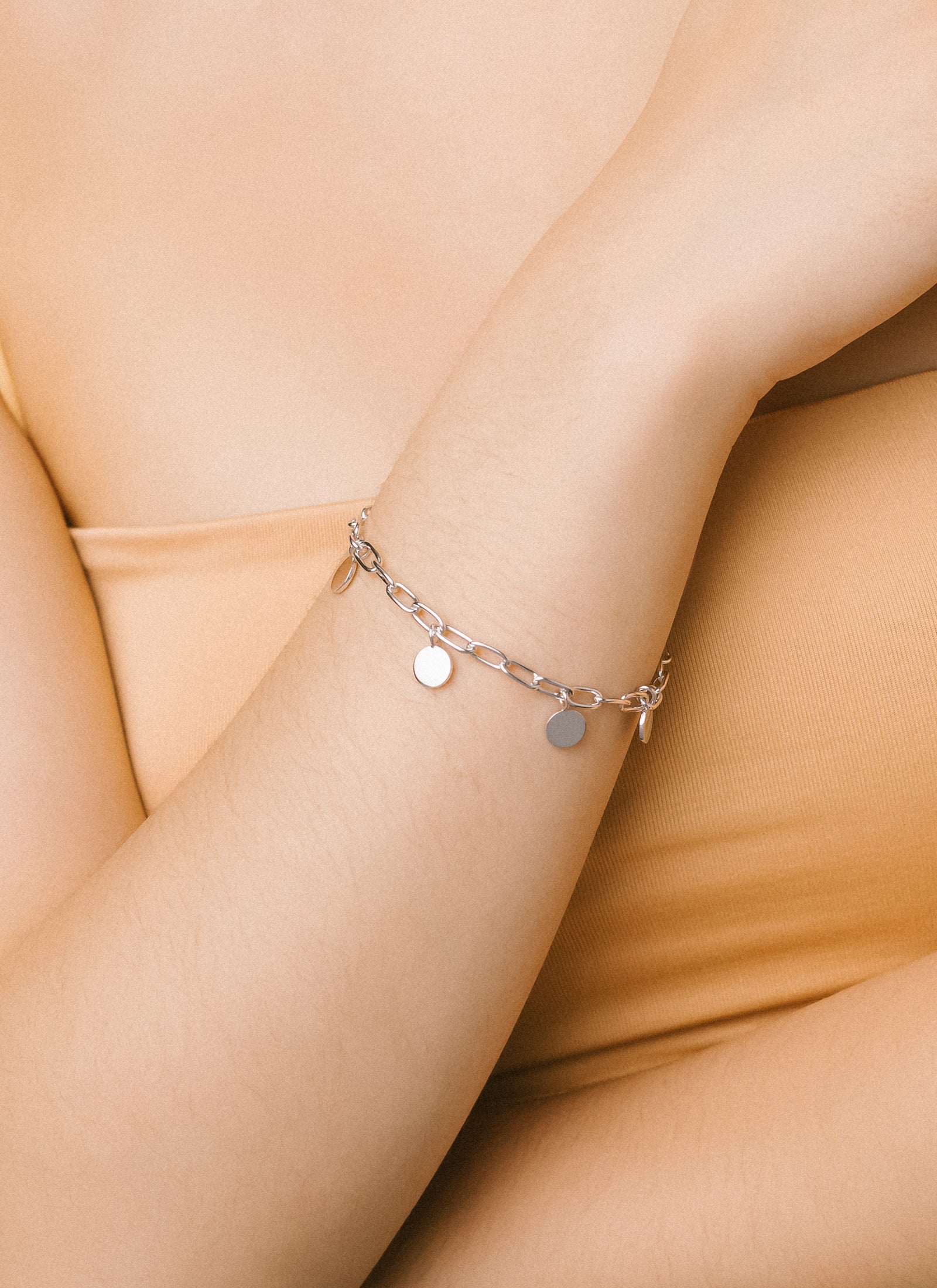 Madison Paper Clip Chain Bracelet with Round Disc Charms
Description
Chain Reaction
Typically, charm bracelets are reserved for those who don't mind going maximal in the wrist department, and who think more is better, and so they go all out with different shapes, textures, etc. But what if you appreciate minimalism, and live by the less is more ethos? Is there a charm bracelet for you? The answer is yes, because we made one just for you! No bulky, fancy charms here: just clean and delicate high-polish rounded disc dangles attached to a gleaming rounded-wire paper clip chain. Understated, no-fuss, and will get you only the nicest compliments! Secures with a classic pear-shaped lobster claw clasp. Comes in five (5) different lengths.
At the moment, our charm bracelets are made to order, so please allow up to two (2) weeks before your order is shipped. (But please welcome the surprise if we can get it to you faster than that!)
Link size: 4.12 mm x 8.14 mm

Wire thickness: approximately 0.97 mm

Wire type: rounded

Charm size: Approximately 7mm

Charm thickness: Approximately 0.95mm

Classic, understated style

Great worn on its own, or layered with a thinner chain

Any-occasion wear

Comes in five (5) different lengths (amount of charms may vary by length)

Finished necklace made by New Yorkers, using high-quality silver chain from Italy
This particular style is only available in silver or gold vermeil, and not in 14K gold
This charm bracelet uses our Madison paper clip chain as base. With elongated links fashioned from rounded wire, it is a standout among our paper clip chain offerings. To purchase the Madison paper clip chain bracelet sans the charms, click here.
Madison Paper Clip Chain Bracelet with Round Disc Charms
FAQs
How do I take care of my sterling silver RIVA New York piece?
Sterling silver should be regularly polished using a polishing cloth. A good habit would be to clean/polish your sterling silver pieces everyday after you take them off. If polishing them every day is too much for you, you can definitely polish them a few times a week (although we still do recommend that you take them off everyday, even if you do not polish them everyday). Avoid wearing your sterling silver jewelry when you shower (or when swimming), or when you're doing activities that make you sweat. Also, make sure you are not wearing your sterling silver pieces when you're putting on lotion, or cologne, or perfume, and when you're applying makeup—a good rule of thumb would be to put your jewelry on after you are done applying lotion, scents and perfume. You should always store your sterling silver jewelry in an airtight pouch or box.
Is this style available in solid gold?
At the moment, the item you see on this page is only available in sterling silver and gold vermeil. Hopefully we will be able to offer this in 14K gold in the future. We offer four paper clip chains available in 14K yellow gold, but these do not have charm bracelet styles: the Wall Street chain, the Tribeca chain, the SoHo chain, and the Chelsea chain.
What is the difference between a flat/square-edged paper clip chain link and a rounded one?
Rounded paper clip links are fashioned from round wire, giving off a softer look. Flat or square-edged paper clip links are made from flattened wire with hard edges, for a more modern, edgier look.
More questions?
Head on over to our FAQs page where we answer frequently asked questions on the materials we use, jewelry care, shipping, returns, exchanges, etc! (If your question is product-specific or order-specific, e-mail it to rdoudak@rivaprecision.com and we will endeavor to get you an answer!)
Good to Know
Fair Pricing
There's no middleman here, since your RIVA New York pieces literally beeline from our benches to your shipping box, so you can rest assured that you won't see insane markups from us. One of our goals for 2025 is to be more transparent with our costs!
We Care
We are a small business and, as such, it is easy and important for us to be intimate with our customers. We treat everyone like family, and that's a promise! Feel free to contact us if you have questions or if you need help, and we'll be there (not literally, but you get the drift)!
Standout Style
A lot of our customers who own this piece have reached out to us (via Instagram DMs or e-mail) telling us about how their item has received lots of ooohs and aaahs from their friends and family! We love to hear it!
We See You, Shining!
Protect That Shine
As much as we love the look of sterling silver, it does have some pitfalls. Unfortunately, silver is known to tarnish from exposure to oxygen and moisture over time. And although tarnish can be avoided by cleaning, and removed by polishing, we at RIVA use a more proactive solution: rhodium plating! The chemical properties of rhodium make it ideal for adding a protective coat around silver pieces. The hard exterior makes your piece of silver jewelry piece more resistant to scratches or tarnishing, and adds a brighter shine! Click here to learn more about rhodium plating.