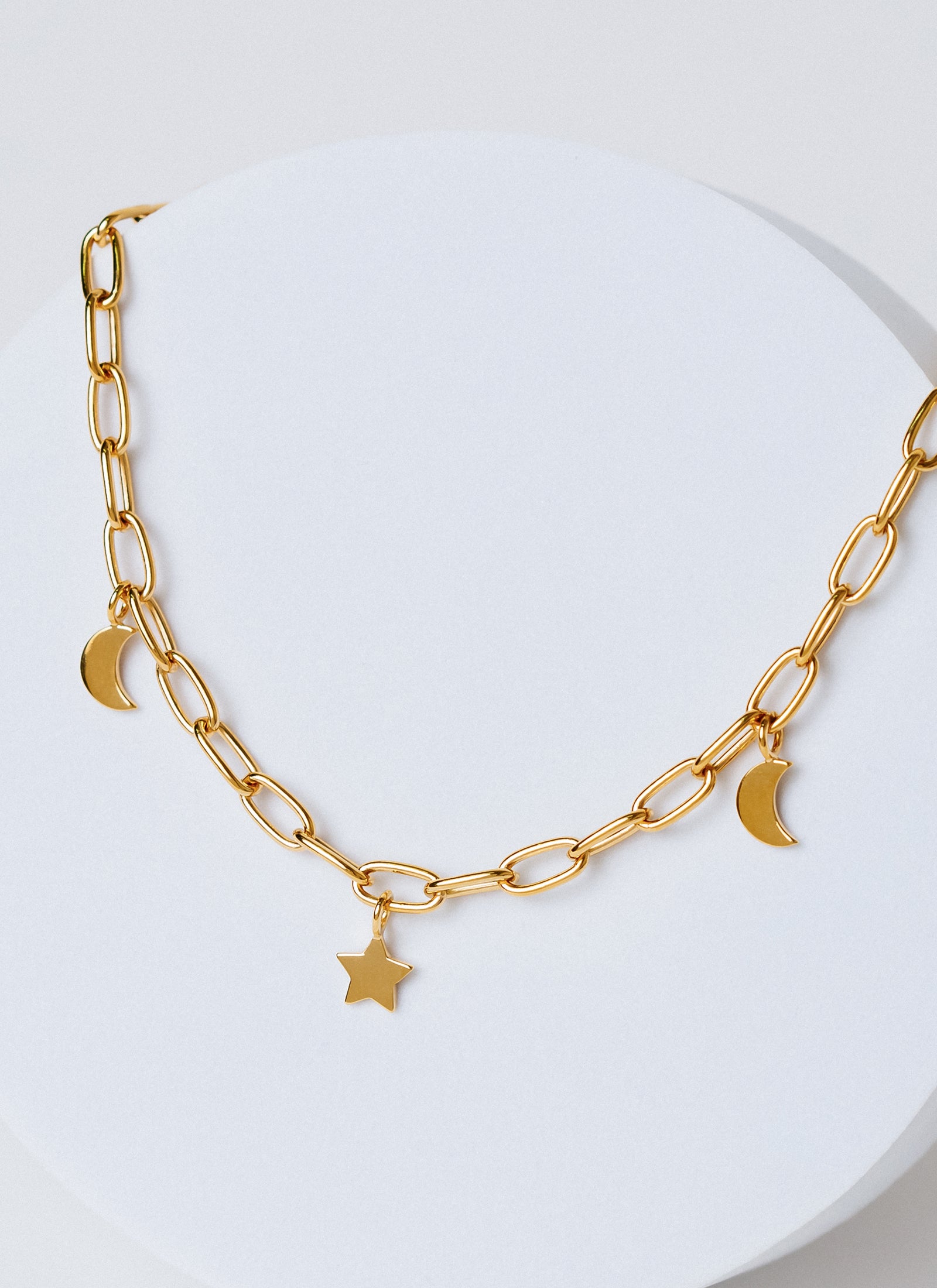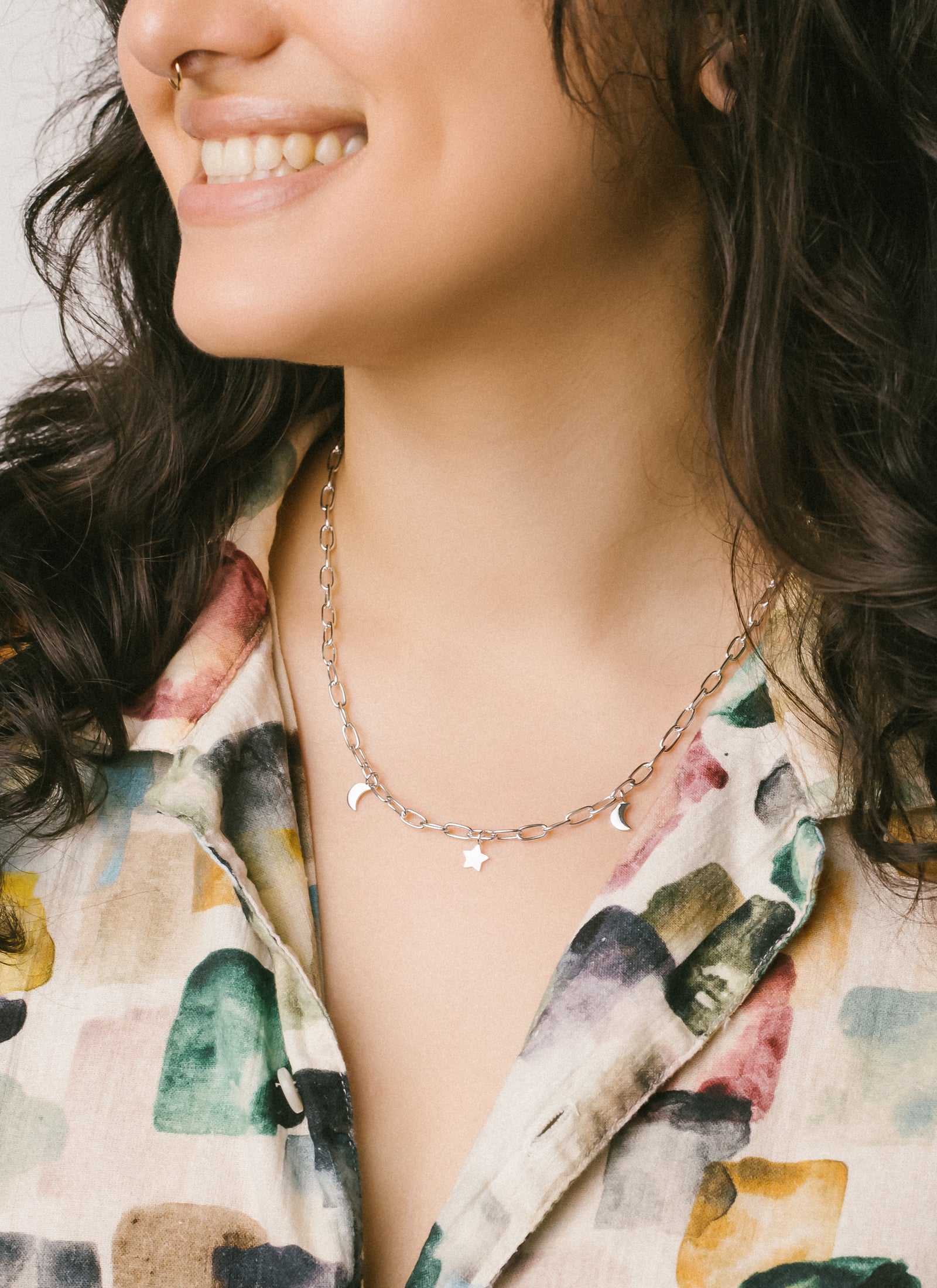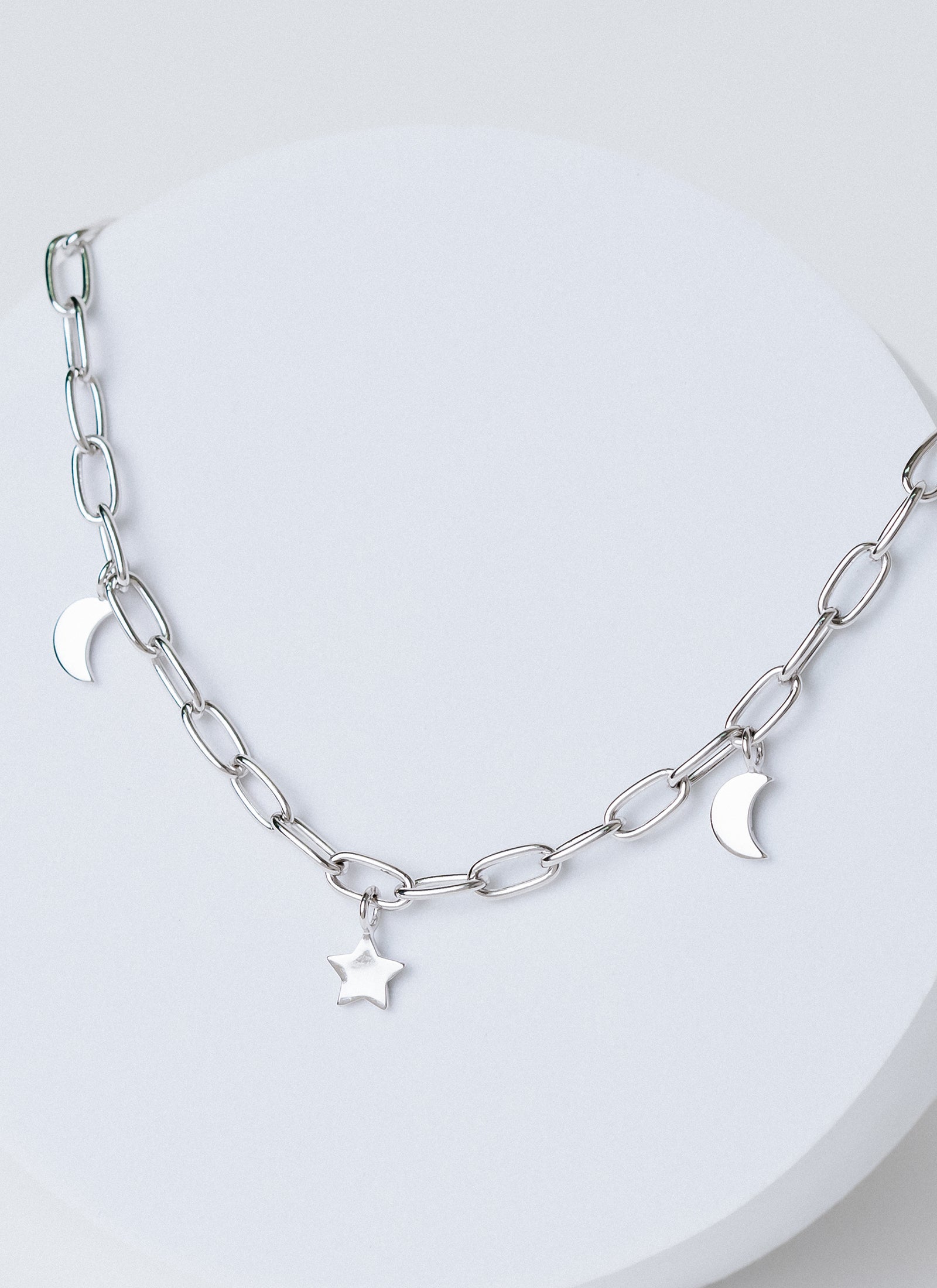 Madison Paper Clip Chain Necklace with Celestial Charms
Description
Chain Reaction
Quite literally, you'll be over the moon with—and thanking your lucky stars for—this night sky-themed charm necklace from RIVA New York: pretty little star-shaped and moon-shaped charms dangle gracefully from the front, giving your neckline a heaven-on-earth kind of sparkle! The base chain for this necklace is our stunning Madison paper clip chain, which features slightly elongated oval links forged from rounded wire. Secures with a classic pear-shaped lobster claw clasp. Comes in four (4) different lengths.
At the moment, our charm necklaces are made to order, so please allow up to two (2) weeks before your order is shipped. (But please welcome the surprise if we can get it to you faster than that!)
Link size: 4.12 mm x 8.14 mm

Wire thickness: approximately 0.97 mm

Wire type: rounded

Charm size:

Approximately 6.5mm (star) and 7mm (moon)

Charm thickness: Approximately 0.95mm

Modern romantic style

Great worn on its own, or layered with a thinner chain

Goes well with any neckline

Any-occasion wear

Comes in four (4) different lengths

Finished necklace made by New Yorkers, using high-quality silver chain from Italy
This particular style is only available in silver or gold vermeil, and not in 14K gold
This charm necklace uses our Madison paper clip chain as base. With elongated links fashioned from rounded wire, it is a standout among our paper clip chain offerings. To purchase the Madison paper clip chain necklace sans the charms, click here.
Madison Paper Clip Chain Necklace with Celestial Charms
FAQs
I am purchasing this item as a gift. Is there a way for me to include a personal note with the shipment?
By all means! Please reach out to us within 48 hours of placing the order to request for a personal note to be included in your order. Send an e-mail to rdoudak@rivaprecision.com, include the exact note you would like us to write/include. We will then write the note on a card, and send to you (PDF or photo) for approval. If you would like to write the note yourself, we recommend having the order shipped to you first, and then we will include a blank card for you to write your personal note on; you would then be responsible for shipping your gift to the recipient.
Is this style available in solid gold?
At the moment, the item you see on this page is only available in sterling silver and gold vermeil. Hopefully we will be able to offer this in 14K gold in the future. We offer four paper clip chains available in 14K yellow gold, but these do not have charm necklace styles: the Wall Street chain, the Tribeca chain, the SoHo chain, and the Chelsea chain.
What is the difference between a flat/square-edged paper clip chain link and a rounded one?
Rounded paper clip links are fashioned from round wire, giving off a softer look. Flat or square-edged paper clip links are made from flattened wire with hard edges, for a more modern, edgier look.
More questions?
Head on over to our FAQs page where we answer frequently asked questions on the materials we use, jewelry care, shipping, returns, exchanges, etc! (If your question is product-specific or order-specific, e-mail it to rdoudak@rivaprecision.com and we will endeavor to get you an answer!)
Good to Know
Fair Pricing
There's no middleman here, since your RIVA New York pieces literally beeline from our benches to your shipping box, so you can rest assured that you won't see insane markups from us. One of our goals for 2025 is to be more transparent with our costs!
We Care
We are a small business and, as such, it is easy and important for us to be intimate with our customers. We treat everyone like family, and that's a promise! Feel free to contact us if you have questions or if you need help, and we'll be there (not literally, but you get the drift)!
Made by New Yorkers, Kinda
Although the chain part comes preassembled from our vendor in northern Italy (full disclosure) who share our values in terms of quality and respect for workers, the finished piece is made with tender loving care by talented artisans in our Brooklyn, NY, facility.
We See You, Shining!
Protect That Shine
As much as we love the look of sterling silver, it does have some pitfalls. Unfortunately, silver is known to tarnish from exposure to oxygen and moisture over time. And although tarnish can be avoided by cleaning, and removed by polishing, we at RIVA use a more proactive solution: rhodium plating! The chemical properties of rhodium make it ideal for adding a protective coat around silver pieces. The hard exterior makes your piece of silver jewelry piece more resistant to scratches or tarnishing, and adds a brighter shine! Click here to learn more about rhodium plating.