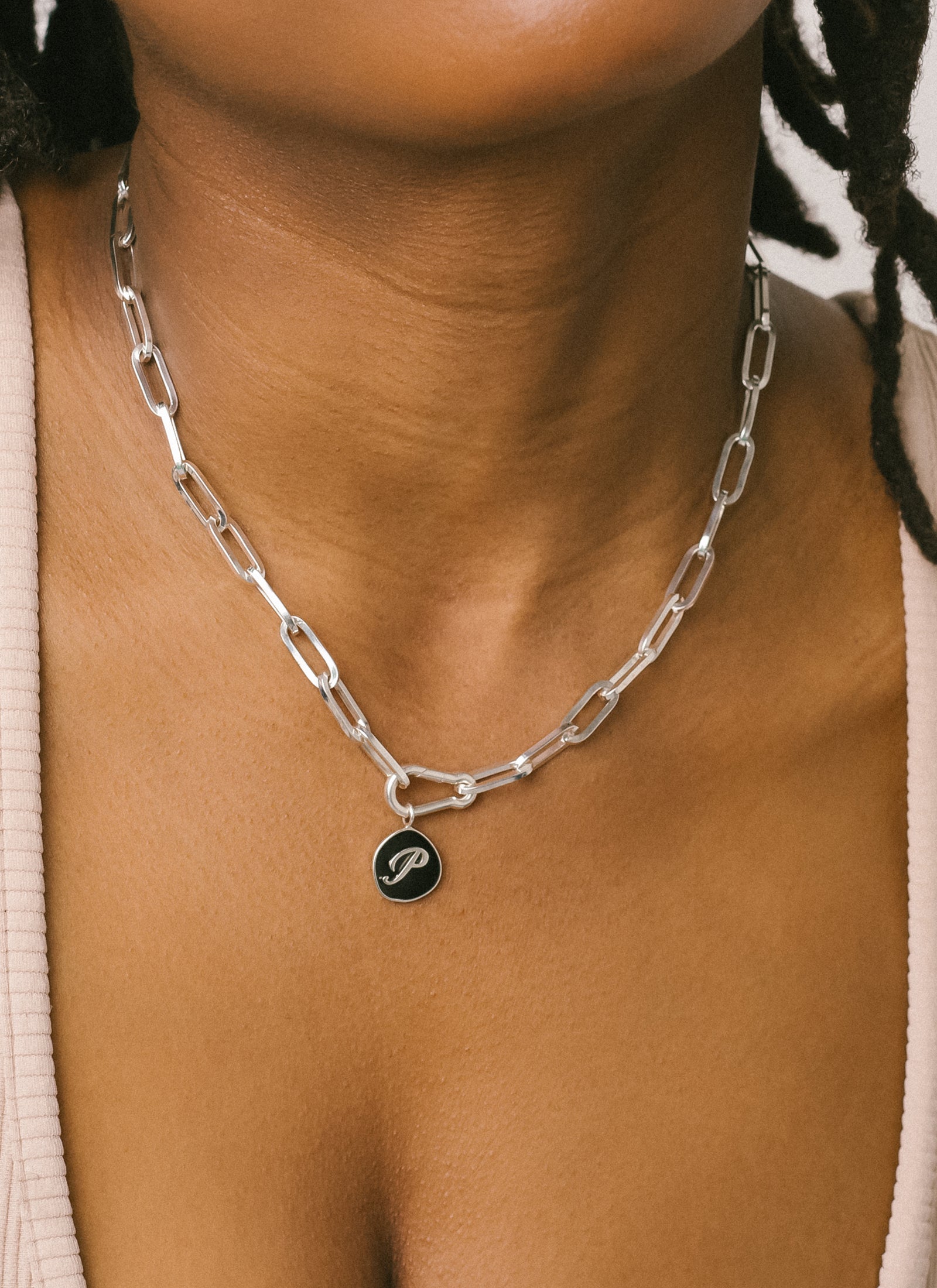 Script Letter Charm with Black Enamel
Description
An Ode to Enamel
The striking contrast between the script letter and the bed of jet-black soft enamel (that mimics the dark sheen of an onyx) in this charm makes for a bold statement. The letter, frame and bale can come in your choice of metal: yellow gold vermeil, sterling silver, or 14k yellow gold. This piece is designed to be paired with one of our Invisible Clasps, and then attached to our Wall Street necklace or bracelet, or to one of our recycled glass bead necklaces or bracelets. (Of course, you can be attach it to any chain necklace or bracelet that you already own, provided that your chain and chain ends can be threaded through the bale.) From the Expression Collection.
This listing is for the standalone charm; if you are looking for the listing for the charm that comes with a cable chain necklace, click here.
At the moment, Script Letter Charms are made to order, so please allow up to two (2) weeks before your order is shipped. (But please welcome the surprise if we can get it to you faster than that!)
Dimensions: Approximately 18.05 mm (height, with bale) x 13.30 mm (width) x 2.32 mm (thickness, with raised letter); due to the organic shape of this charm, all figures are approximate

Modern Deco-inspired style

Enamel type: soft

Organic-shaped frame

High-polish raised script letter

Multi-functional: attach it to the Invisible Clasp of your Wall Street necklace or bracelet, or slide it into any thin chain that you already own
Unisex/genderless
Made by New Yorkers using ethically sourced and recycled materials, so it's a piece you can be proud of
Enamel in jewelry is not a new concept. In fact, it has been around for centuries, ever since artisans from the olden days discovered that it could make for an effective, less expensive alternative for colored semi-precious stones. And that is exactly the formula that we emulated here: originally we designed these script letter charms to feature howlite and onyx backings, but because we could not find stones that demonstrated ethical provenance, we decided to go the enamel route instead. And they turned out beautifully! RIVA New York has an enamel department dedicated to bring pieces to life with their expert techniques and creative eye!
Script Letter Charm with Black Enamel
FAQs
Can I request for a custom enamel color?
At this time, we only offer script letter charms in white enamel and black enamel.
Can you customize the font of my letter charm?
No, we will not be able to customize the font of your letter charm at this time.
What is gold vermeil?
Gold vermeil is a type of high-end gold plating. Gold vermeil is more hypoallergenic because it uses a thicker layer of gold (at least 2.5 microns thick) compared to regular gold plating. Gold vermeil is a more affordable alternative to solid gold pieces.
More questions?
Head on over to our FAQs page where we answer frequently asked questions on the materials we use, jewelry care, shipping, returns, exchanges, etc! (If your question is product-specific or order-specific, e-mail it to rdoudak@rivaprecision.com and we will endeavor to get you an answer!)
Good to Know
Made by New Yorkers
This piece is made with tender loving care by talented artisans in our Brooklyn, NY, facilities. A crew so diverse it reflects the melting pot of a city in which we operate—and who have more than 200 years of combined experience in jewelry making!
Fair Pricing
There's no middleman here, since your RIVA New York pieces literally beeline from our benches to your shipping box, so you can rest assured that you won't see insane markups from us. One of our goals for 2025 is to be more transparent with our costs!
Two-Week Lead Time
RIVA New York does not keep this item in stock most of the time. Mass production (or flow production) is not in our parlance. In an effort to reduce waste, we are all about small batch production. Please allow two weeks for delivery of your piece!
Let's Do Our Part
Why Recycled Materials?
RIVA New York makes this charm using recycled metals. Especially for the ethical consumer in you! By making a conscious decision to purchase and/or wear jewelry that is made from ethically sourced and recycled materials, you are showing respect and empathy not just towards artisans, but towards the planet, as well; and you are doing your part in putting a stop to illegal and/or child labor, unsafe working conditions and unfair labor practices. Click here to read up on RIVA New York's commitment to ethical sourcing and recycling.
About the Collection
Express Yourself
RIVA New York's Expression Collection aims to celebrate your personal style (and cement our shared commitment to sustainability) by offering modular pieces that you can put together to create something that is uniquely you—and then transform as your style evolves in the future. Click here to explore the entire collection. We also created special Build Your Own Necklace/Bracelet pages so it's easier for you to design an Expression Collection piece that is uniquely yours—click here!