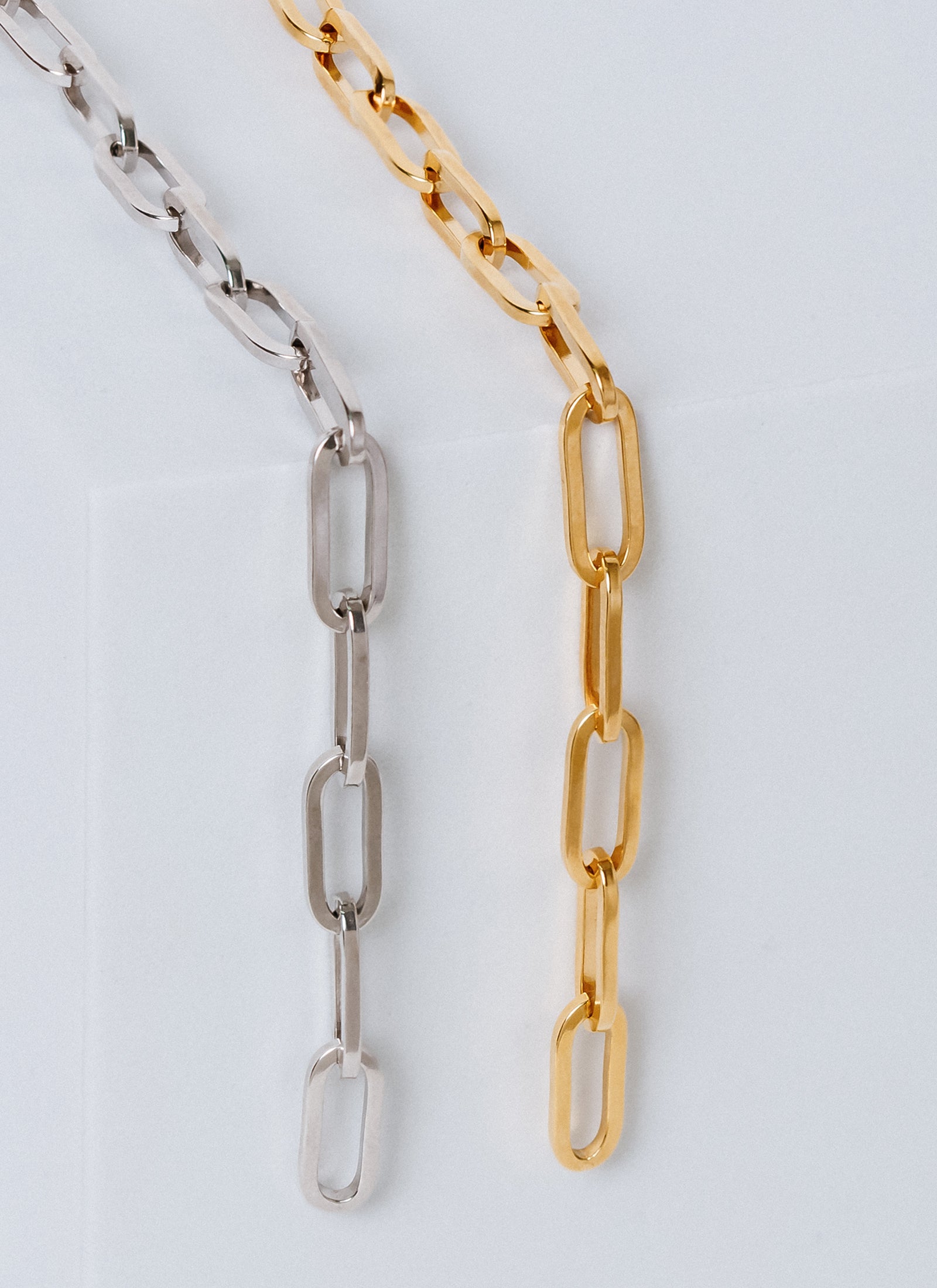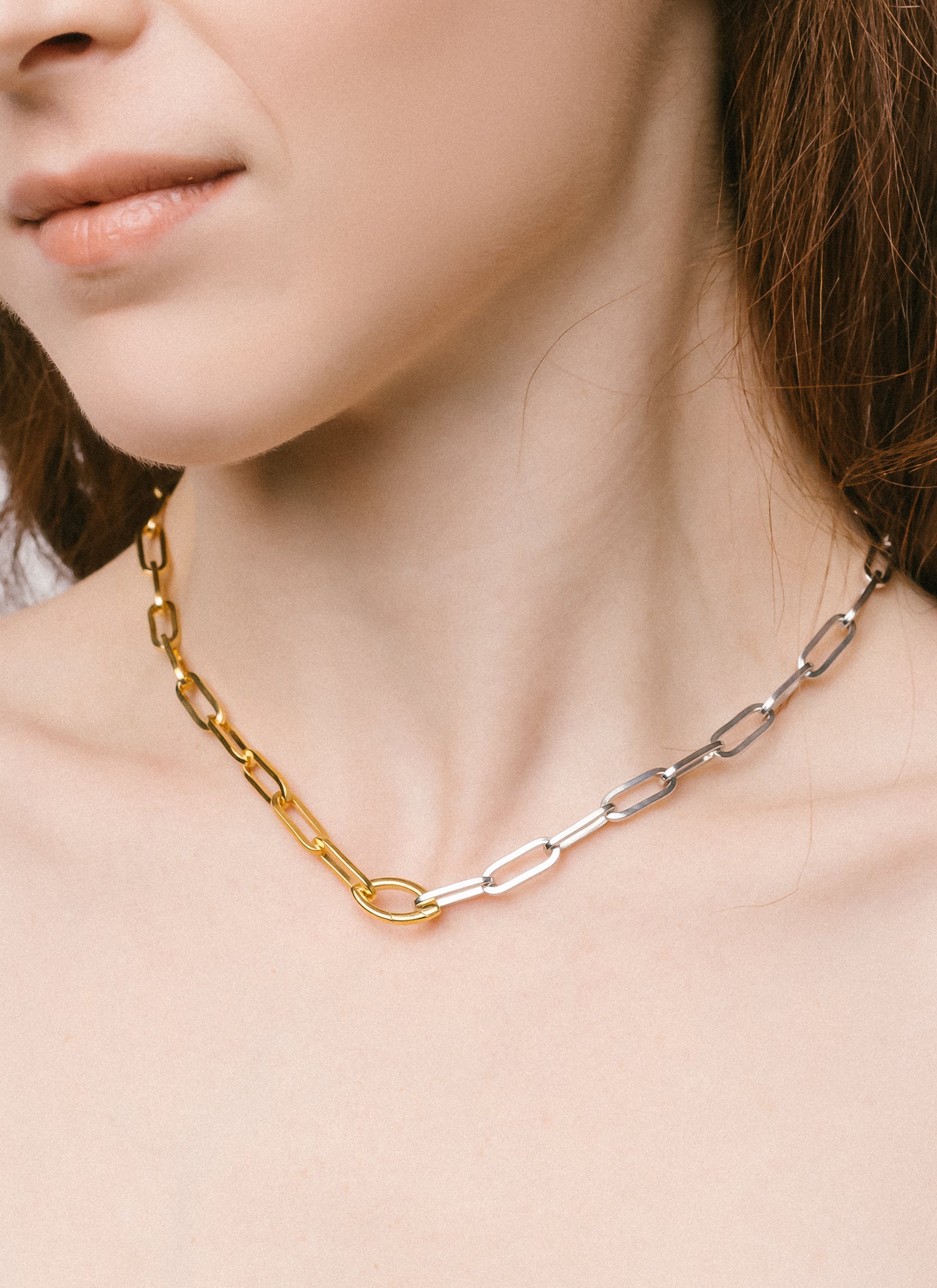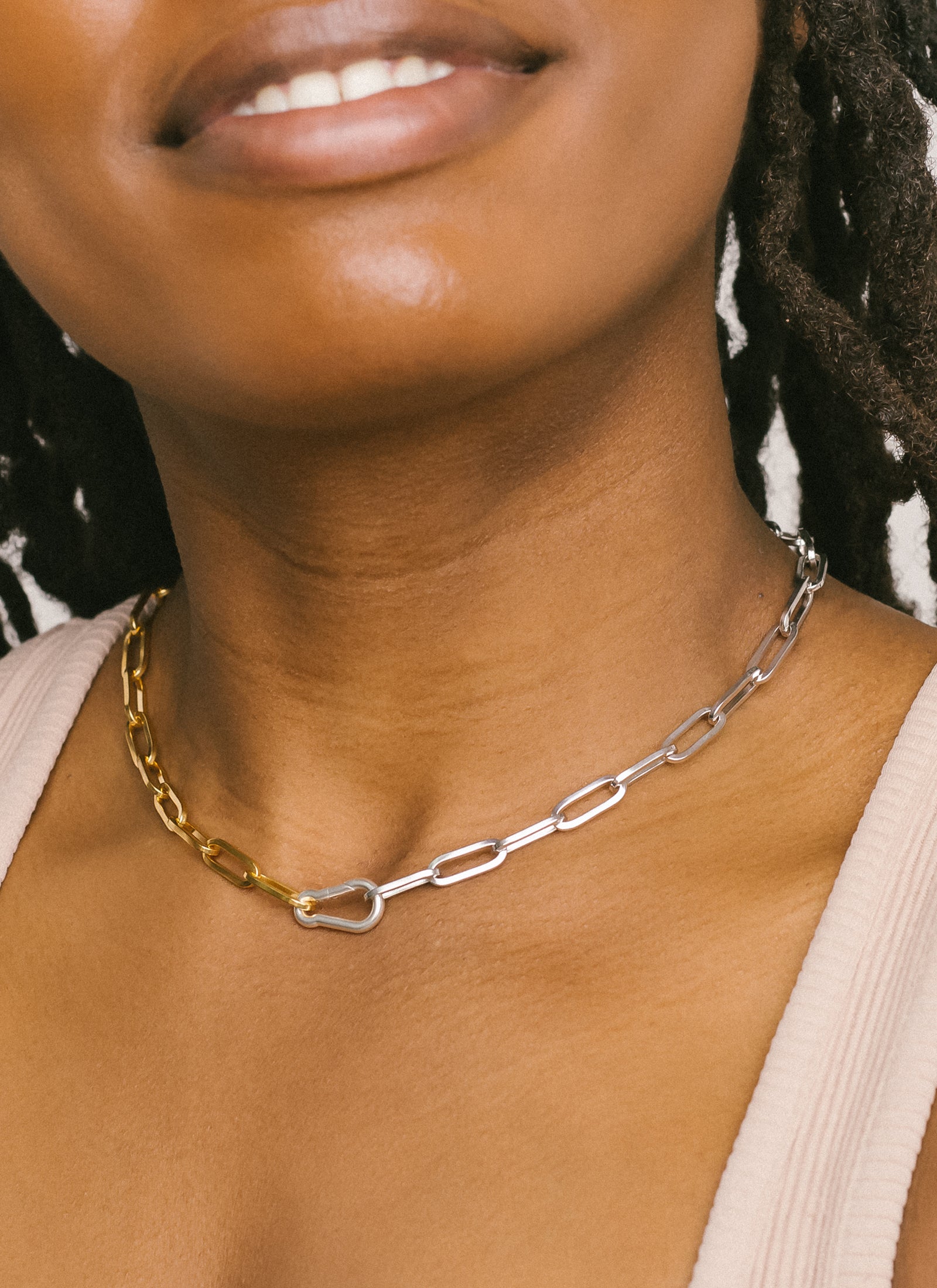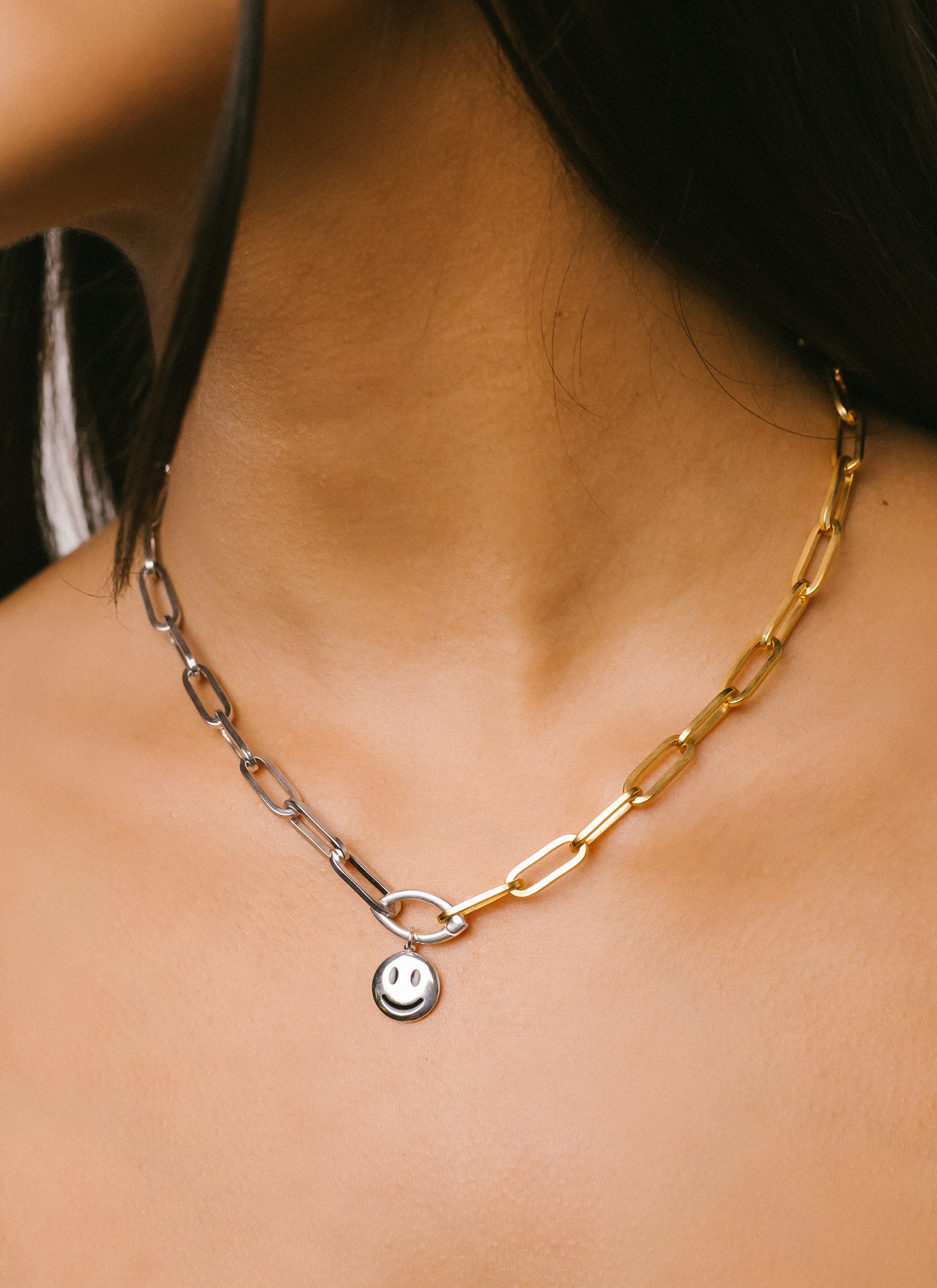 Two-Tone Wall Street Paper Clip Chain Necklace
Description
Build Your Own Necklace
Our Wall Street necklace gets a cool upgrade! Sizable geometric flat/square-edged paper clip chain in sterling silver, with half the chain plated in gold vermeil for a standout two-tone look. Most call it ombré; we call it awesome! This is a freestyle or "foundation" chain, meaning it has no closure—you will need to pair it with one of RIVA New York's signature Invisible Clasps. Personalize it further with a RIVA New York Letter Charm or Gemstone Charm from the Expression Collection! Comes in five (5) different lengths. 
At the moment, two-tone Wall Street necklaces are made to order, so please allow up to two (2) weeks before your order is shipped. (But please welcome the surprise if we can get it to you faster than that!) 
Link size: 5.9 mm x 15.6 mm
Wire thickness: 1.42 mm
Wire type: 

flat or square-edged

Modern minimalism, with maximal impact
Unique two-tone style; made in 925 silver, and then half the length is plated in gold vermeil
Highly personalizable: choose your clasp, add a charm
Goes well with any neckline (click here to see styling tips!)
Unisex/genderless
Comes in five (5) different lengths
Made by New Yorkers using ethically sourced and recycled materials, so it's a piece you can be proud of
Please take note that this is an open or "foundation" chain, which means that if you purchase it as is it won't come with a closure–you will need to pair it with one of our signature Invisible Clasps in order to complete your piece. After adding this item to your Cart, you must continue shopping and navigate to our page of Invisible Clasps to select a clasp. Another option is to use our Build Your Own Chain Necklace page so it's easy for you to mix-and-match in one place! (If you already own an Invisible Clasp, then you may purchase this standalone item.) 
Two-Tone Wall Street Paper Clip Chain Necklace
FAQs
What is a foundation chain?
We call this a foundation chain (we sometimes refer to it as a base chain in other areas of our Website) because it is the foundation of a RIVA New York Expression Collection necklace. You get to choose an Invisible Clasp for it, and then you get to add a charm (optional)—so you end up with a piece that is uniquely you! A foundation chain does not have a closure, as you can see in some of the photos here. That is simply because the Invisible Clasp that you select to go with it will serve as its closure. To make it easy for you, we have created a Build Your Own Chain Necklace page so you do not have to jump back and forth between our Shop pages and your Cart as you build your custom piece—and it's super fun, so you should try it!
How do I add a clasp to this chain?
The clasp that you can add to or use with this chain is called the Invisible Clasp. We offer 5 shapes of Invisible Clasps for you to choose from, and each shape comes in different variants: high-polish, textured (for 14K yellow gold Clasps only), and enameled. To add an Invisible Clasp to this chain, simply navigate to the Invisible Clasps category under our Shop page after you had added this chain to your Cart, select the Invisible Clasp of your choice and add that to your Cart! You may also use our Build Your Own Chain Necklace page—it's super fun! It allows you to virtually try different chain-and-clasp combos to take the guesswork out of building your RIVA New York Expression Collection piece!
What is gold vermeil?
Gold vermeil is a type of high-end gold plating. Gold vermeil is more hypoallergenic because it uses a thicker layer of gold (at least 2.5 microns thick) compared to regular gold plating. Gold vermeil is a more affordable alternative to solid gold pieces.
More questions?
Head on over to our FAQs page where we answer frequently asked questions on the materials we use, jewelry care, shipping, returns, exchanges, etc! (If your question is product-specific or order-specific, e-mail it to rdoudak@rivaprecision.com and we will endeavor to get you an answer!)
Good to Know
Fair Pricing
There's no middleman here, since your RIVA New York pieces literally beeline from our benches to your shipping box, so you can rest assured that you won't see insane markups from us. One of our goals for 2025 is to be more transparent with our costs!
Standout Style
A lot of our customers who own this piece have reached out to us (via Instagram DMs or e-mail) telling us about how their item has received lots of ooohs and aaahs from their friends and family! We love to hear it!
Highly Customizable
This is a foundation chain that is part of RIVA New York's Expression Collection, so it is highly customizable! Add the Invisible Clasp of your choice (we have 5 shapes, plus each shape has different variations), and then add a charm or two! Unleash your inner designer!
Best of Both Worlds
The Two-Tone Look is Hot Right Now
Well, it's been hot ever since mixing metals in jewelry design was discovered, and who knows how far back we're talking? All we know is that mixing yellow gold and white gold in one design has always made for a standout, eye-catching fine jewelry piece… And now we're bringing that parlance to demi-fine jewelry territory by mixing sterling silver and gold vermeil in one piece! So now you don't have to choose between one look or the other! Brilliant or what?
About the Collection
Express Yourself
RIVA New York's Expression Collection aims to celebrate your personal style (and cement our shared commitment to sustainability) by offering modular pieces that you can put together to create something that is uniquely you—and then transform as your style evolves in the future. Click here to explore the entire collection. We also created a special Build Your Own Chain Necklace page so it's easier for you to design an Expression Collection piece that is uniquely yours—click here!